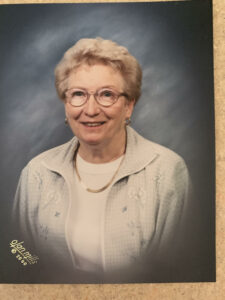 Age 94, of Rochester Hills, passed away on August 13, 2022. In accordance with her wishes, cremation has taken place. Wiona 'Polly' Roach was born on August 3, 1928, in Barryton, Michigan, the daughter of Mr. and Mrs. Claud and Orpha (Jenks) Branson. She was married to Robert Roach, the love of her life, and raised her large, blended family in East Tawas, MI, where she lived for more than 60 years. After Robert passed away in 2014, Polly moved to Rochester Hills to be closer to her children.
For most of her youth, Polly lived in Flint, MI, but at age 16, her father bought a farm and moved his family to Chippewa Lake, MI where Polly attended and graduated from Big Rapids High School in 1946. She obtained a Bachelor's Degree in Elementary Education and a Master's Degree in Reading Education from Central Michigan University. With the exception of her first year of teaching, she was an Elementary teacher with Oscoda Area Schools, from which she retired in 1994.
Polly loved to dance, was an avid reader and always loved a good joke. For many years she was active in her church, and most especially in support of the annual bazaar fundraiser for the FISH, Inc. – Tawas Gift House. Above all her greatest joy was spending time with her family.
Surviving Polly are her children; Randy Stevenson (Junko), Kristine (nee Stevenson) West (Marvin), Susan (nee Stevenson) DesJardins (Glen), Roberta (nee Roach) Hill (Ronnie), Michael Roach (Stephanie), and Thomas Roach; 15 grandchildren; 17 great-grandchildren; her sister, Beverly (nee Branson) Ryan; and several nieces and nephews.
Polly was preceded in death by her husband; Robert; stepson; Randy L. Roach; parents; Claud and Orpha Branson; brothers; Thar and Dale Branson.
A Celebration of her Life will be held at 11:00 am on Saturday, September 24, 2022, at the Tawas United Methodist Church; 20 E. M-55 Tawas City, MI 48763. Visitation among family and friends will be held from 10:00 am to the start of the service. In lieu of flowers, and at the wishes of Polly, the family asks gratefully that others consider donating in Polly's name to FISH, Inc. – Tawas Gift House or the Tawas United Methodist Church. Donations can be mailed to FISH, Inc.-Tawas Gift House, or the Tawas United Methodist Church at 20 E. M-55, Tawas City, MI 48763. Envelopes will also be available at the service. Expressions of sympathy may be shared with the family on Wiona Polly Roach's Tribute Wall at detroitcremationsociety.com.
Polly's obituary was written by her loving family.
Let the family know you care by sharing this tribute.