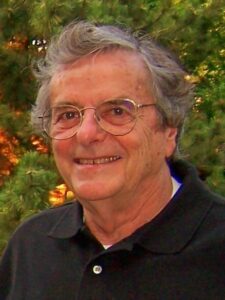 William Gerald 'Jerry' Mancour was born on April 19, 1933 to Donald E. Mancour and Roseland B. (Janes) Mancour. Jerry was raised in a small house on Florence St. in Clawson, Michigan along with his three siblings, Carol, Don Jr., and Jacqui. Family ties, the Catholic Church and community were important as 'Ma' Rose cared for Jerry's dad during his seven year illness, and at age sixteen, Jerry lost his father. Jerry had many fond memories of times spent with family on both sides of the border between the US and Canada. He recounted a visit with extended family in St. Catharines, Ontario, Canada where more relatives were present than available beds. It was suggested Jerry and Don Jr. sleep in the family car that was precariously parked on a hill facing Lake Ontario. Instead they chose to sleep under the stars.
As a teen, Jerry worked in construction alongside his grandfather, William A. Mancour. He credited his grandfather with recognizing his aptitude to build, fix, restore, and remodel anything he set his mind to. William once instructed Jerry to hold his hammer correctly or he would saw off the handle! Jerry was also a talented athlete. He played basketball, and was the quarterback of the football team at Clawson High. One of his first jobs was caddying for local golf courses, which would hone his decades-long love of golf.
After graduation, Jerry chose to enlist in the United States Air Force during the Korean War. Trained as a hydraulic mechanic, he spent a fair bit of his service in a sub-zero airplane hangar in Fairbanks, Alaska, that he swore was "so large it had its own weather patterns." He possessed an incredibly sharp and affable wit that was instantly deployed with everyone he met. Jerry's elder brother Don Jr., served overseas during the Korean War as well, and while Jerry came home unharmed, Don Jr. sustained a head injury that required him to live with assistance in Veterans' hospitals for the remaining 20 years of his life.
The day Jerry returned home to Michigan, he met Lucy Ann Pietrosky. That very evening (after borrowing dressy threads from a buddy rather than wear military-issued clothes), he took Lucy on a date to Baker's Keyboard Lounge in Detroit. Lucy must have appreciated the effort; they married, started their life in Detroit, and spent 52 years together.
In the early years of their marriage, Jerry studied hydraulic engineering and theology at University of Michigan, and at University of Detroit where he earned his Bachelors' degree. Jerry's early career began as a draftsman, designer and sales manager for manufacturing firms, and in his off time he continued the traditions of his Catholic faith by teaching catechism classes.
Jerry and Lucy took immense pride in raising their three daughters, Tracy Ann, Jane, and Carol, settling north of Rochester, where they lived for more than 30 years. In 1970, an economic recession led to their first business endeavor, Walnut Lake Hardware in West Bloomfield. It was a good "old fashioned" full service hardware, offering a mélange of supplies and services, paint and wallpaper, screen repair, small engine repair, nails in bins, fine artist supplies, skate sharpening and fresh eggs on Saturdays. A sign hanging on the wall stated "If we don't have it, you don't need it."
Jerry and Lucy were relied upon by the community surrounding Walnut Lake for many repairs and remodeling projects. Later, hardware stores in Troy and Rochester were added. Many of their customers and employees became lifelong friends. Jerry was nicknamed 'Duke' by the staff, and Lucy 'Chief'. The staff acquired nicknames too, Patrick 'Crash' Shabal, an employee of the hardware and Jerry's indomitable friend and collaborator, earned his nickname by accidentally crashing Lucy's new car as a teenager.
In 1976, Jerry was presented with an opportunity to pair his carpentry skills with his keen interest in history and preservation, and a cider mill with a water wheel was purchased. It came with cavernous spaces full of potential, situated steps off Paint Creek in the Village of Goodison, MI, complete with 136 busted water pipes. For 20 years Jerry was the immense building's proud steward, transforming it into the Paint Creek Cider Mill and Restaurant, a destination venue that became the shining example of Jerry's skills as an engineer and draftsman.
The business began as a fresh cider pressing operation but quickly expanded with the combined talents of the family. A country themed bakery, gift and candy store, curated by Lucy and daughters Tracy Ann and Jane, served up fresh cinnamon sugar 'fry-cake' donuts and all manner of pies and pastries. A highlight of the bakery was hand dipped caramel apples, using only the best Empire apples selected by Lucy. A fine dining restaurant and pub were added, with menus designed by daughter Carol. Early on, the restaurant garnered accolades in the press.
Under Jerry and Carol's management the restaurant grew to include banquet facilities, hosting weddings and parties, and featuring delicious butter crème frosted cakes that showcased Jane's decorating skills. Jerry and Lucy's young granddaughters Karah and Chloé could almost always be found 'having a run of the mill' drinking cider, eating donuts and playing Monopoly in the mill's adjacent pub by the fireplace during off hours. In autumn, the mill was so popular that Jerry hired local musicians to entertain the throngs of people waiting in long lines for cider and donuts.
In their off time, Jerry and Lucy traversed America together by car, gathering ideas for their business, with Jerry as pilot in the driver's seat, Lucy with the map in her lap as navigator. They visited historical sites and gardens out east and toured vineyards in Napa Valley. Jerry nearly always plotted a visit to an old mill on their routes. After selling the cider mill in 1996, they retired to the charm of the south, building a home just outside historic Aiken, South Carolina, surrounded by a golf course and a retired racehorse farm. Jerry completed much of their new home's finished carpentry himself.
Despite the beauty and history of Aiken, Lucy tired quickly of southern life, and they returned to Michigan in 2000 to be close to family once again. Jerry's staunch commitment to Lucy, and to their marriage of over 52 years, was evident to everyone who knew them, and especially visible as Lucy became ill and as he cared for her at home in the last years of her life. Jerry designed and built an addition onto daughter Jane's house so Lucy could live safely, comfortably, and surrounded by family until her passing in 2009.
Following Lucy's passing, Jerry remained living with daughter Jane, where she provided the environment for him to continue to exercise his tack-sharp mind. Together, he and Jane chose a new property in Groveland Township, MI, where they had three acres on which to plant and tend to a bountiful vegetable garden. Jerry kept his voracity for road trips, too– just a few years ago he hitched a ride with daughter Tracy Ann to Quebec, tracing his mother's French Canadian ancestral trail, and visiting old mills. There were also a few spontaneous road trips to Florida with his cousin Leon 'Pete" Mancour that typically were without reservations.
Until the end of his life, Jerry could be found with a drawing board on his lap, drafting architectural plans for friend Paul Holler's building and renovation projects, and hatching new projects of his own. In recent years, with the help of good friend Bruce Smith, he designed and built an homage to his brother and his hometown. The Donald E. Mancour Jr. Clawson Veteran Memorial, now hangs inside Clawson City Hall and names veterans from Clawson who served in all branches of the Military.
This talented, dedicated, sharp, loving, and constantly active 88-year-young man rejoined Lucy on January 30, 2022, and they will be interred together at Great Lakes National Cemetery in Holly, MI just a few miles from where his father's Scottish ancestors settled in Atlas Township.
Jerry's tenacity, fiery attitude, and knowledge of everything mechanical and architectural will forever be an inspiration and guiding light to his loved ones. Daughters Tracy Ann Mancour of Rochester, MI, Jane Mancour of Groveland Township, MI, and Carol Mancour of Palm Beach County, FL; Granddaughters Karah Shaffer of New York, NY, and Chloé Lynn Wisdom of Charlotte, NC; Great-Grandchildren Leigha Eden Wisdom and William Jameson Wisdom (bearer of Jerry's legal first name) of Charlotte, NC; 'adopted' son and close family friend Patrick 'Crash' Shabal; and a precocious and rather vocal orange cat named Carson. He is survived by sisters Carol Valko of Michigan, and Jacqueline Seifert of Sarasota, FL.
Jerry's family suggests that those wishing to celebrate his memory may support his last project, the Donald E. Mancour Jr. Clawson Veteran Memorial. Donations may be sent by check, made out to the Clawson Community Foundation. Please note "Clawson Veteran Memorial" on your check memo area and mail to:
Clawson Veteran Memorial
c/o Clawson Community Foundation
425 North Main Street Clawson, MI
48017
We invite memories and photos of Jerry to be shared on his Tribute Wall at detroitcremationsociety.com.
Obituary lovingly written by Jerry's family.
Let the family know you care by sharing this tribute.