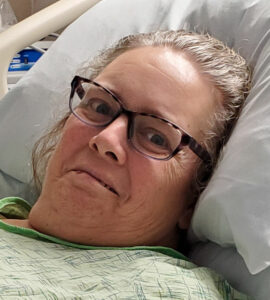 Age 54, of Grand Blanc, died on Friday, February 28, 2020, at Ascension Genesys Hospital, with her daughter by her side. In accordance with Tracey's wishes, cremation has taken place. A memorial service will be held at 3:00 pm on Monday, March 9, 2020 at Goodrich United Methodist Church, Pastor Joel Walther to officiate. The family will be present at the church to recieve friends and family on Monday from 2:00 pm until the time of service at 3:00. In lieu of flowers, donations may be made in Tracey's name to the Breast Cancer Research Foundation through Tracey's memorial page at martinfuneralhome.com or envelopes are available at the funeral home.
Tracey was born in Crystal Falls, Michigan on January 28, 1966, to Richard Galor. A graduate of Newberry High School with the Class of 1984, Tracey moved to mid-Michigan shortly after graduation. She welcomed her beautiful daughters in 1987, 1988 and 1991. In 1992, while working in a restaurant, Tracey would meet Frank Thompson. They dated, fell in love, and on December 3, 1993, the two were united in marriage at Rose Chapel in Waterford. Tracey continued her education at Baker College, earning her Associates Degree as a Medical Assistant. She worked for Dr. John Love in Flint for over 13 years. In her free time, Tracey enjoyed fishing, crocheting, doing puzzles, playing cards, relaxing at the beach, and most of all, spending time with her family.
Tracey is survived by her loving husband: Frank Thompson; children: Michelle (John) Keenan, Jamie Goodwin, and Kristin Goodwin (Nate Elwood); grandchildren: Lucas Goodwin, and Riley Elwood; father: Richard Galor; two brothers: Scott Galor, and Keith Galor; and many other close family and friends.
She is preceded in death by Peggy Galor and mother-in-law: Helen Maxine Thompson.
Let the family know you care by sharing this tribute.