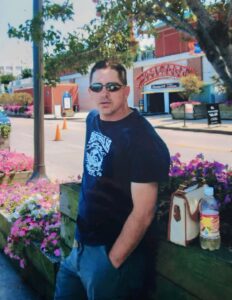 Age 58, of Tawas City, passed away on November 6, 2023. In accordance with his wishes, cremation has taken place. Expressions of sympathy may be shared with the family on Timothy's Tribute Wall at detroitcremationsociety.com
Timothy Raymond Gilmour was born on June 8, 1965, in Flint, Michigan, the son of Mr. and Mrs. James and Barbara (LaFave) Gilmour.
Timothy lived in Tawas City for over 25 years. He was the former owner of Gilmour Construction, since the early 2000's. There are Countless homes in Tawas that are a living testament to his special talent and craftsmanship. He was always quick with a joke and a kind word. Tim was a dreamer, always thinking about how to make the world a better, more peaceful place. He loved nature and was an avid hiker, and cyclist; riding hundreds of miles in and around the Tawas area. He especially loved the Tawas Point.
He leaves us with many fond memories while spending time at the former family cottage on Benson Rd.
Timothy is survived by his brothers; James (Renee') Gilmour, Thomas (Sharman) Gilmour, Joseph (Mary) Gilmour and Theodore Gilmour his sister; Karen (Jeffrey) Kulhanek, his nieces and nephews; Joshua (Erin) Gilmour, Eric Gilmour, Jenna (Joseph) Baker, Andrew (Jenilee) Kulhanek, Matthew (Emily) Kulhanek, Cameron (Elizabeth) Kulhanek, Christopher Okamoto, Jeremy (Tara) Okamoto, Sarah (Jesse) Gunnell, Ryan Gilmour, Nicholas (Emily) Gilmour and Zachary Gilmour and many great nieces and nephews. He also leaves behind his special friend and former partner, Shelley Norris.
Timothy is preceded in death by his parents; James Gilmour and Barbara (LaFave) Gilmour and his sister Kathleen (Gilmour) Okamoto.
Timothy's obituary was written by his loving family.
Let the family know you care by sharing this tribute.