Suzanne Ann (Graeber) Sugden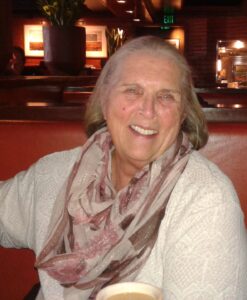 Age 88, passed away on April 16, 2023 in her home with her son holding her hand.
Expressions of sympathy may be shared with the family on Suzanne's tribute wall at detroitcremationsociety.com.
A Memorial and Celebration of Life will be held on May 5, 1 pm to 4 pm, at the Flint Institute of Arts, Isabel Hall. A valet service will be provided. Donations to Carriage Town Ministries or Flint Institute of Arts are requested in lieu of flowers.
Sue was born February, 24, 1935 in Detroit, Michigan. She was the daughter of Henry and Pearl Graeber, who immigrated from Golden Lake, Ontario to Michigan.
Sue graduated from Bronson School of Nursing in 1956 and began her career as a Registered Nurse at Bronson Hospital. She married, moved to Flint and chose the teaching hospital, Hurley, to continue her career. Sue worked in many departments, the most notable was the Critical Care Cardiac Unit. Sue is described by a co-worker as having a great sense of humor, great to work with, a good friend and fun to party with.
Sue maintained her R.N. license until she was 86. She enjoyed staying current with medical advances and wanted to be available in any emergency.
After retirement Sue became a Compassionate Care Volunteer at Hurley Medical Center and a member of Global Volunteers. Her most treasured experience was teaching English in China.
Family and friends have traveled many miles just for Sue's fried chicken or a wonderful new recipe she just had to try. Gathering at her table was a delicious, warm and loving experience, carrying on the Graeber tradition of warmhearted gatherings and companionship.
Sue also wrote poetry: "I hold them to their promise and wait knowing one day they will reach, unfurl, grow into something magical."
Flint arts, culture, education and helping those in need were a passion for Sue. She loved attending performances, events and art shows and sharing these experiences with friends and family.
Suzanne was a dedicated, loving and fun mother. "They are the beat of my heart, the pulse in my veins, and the energy in my soul", anonymous author of a poem that Sue loved.
She is survived by her daughter, Keely Sugden, son Kristian (Sheila) Sugden, sister Mary Lou Graeber, brother Richard (Sheri) Graeber, sister-in-law Oya Graeber, sister-in-law Rosemary (Adrian) Waltzer, grandchildren Cody Sugden, Lee Pruitt and Brooke (Adam) Yates, nieces Leyla (Billy) Oswald, Patti (Chris) Garz, Shira Waltzer and Keryn Waltzer, nephews David (Aselya) Waltzer, Joseph Waltzer, Erol Graeber and Norman Graeber, many loving cousins and former husband Robert Sugden.
Sue was loved by many friends whom she treasured.
Sue was preceded in death by her parents, her infant daughter, Sheri Ann Sugden, and her brother Robert Graeber.
Let the family know you care by sharing this tribute.