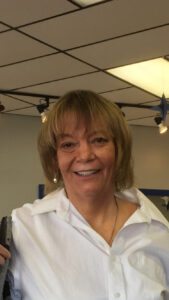 Susan McLaughlin, age 63 of Flint, MI, passed away on September 17, 2022. She was born in Milwaukee, Wisconsin to Walter and Lois (Bloom) McLaughlin.
When Susan was little, her dad worked as an assistant manager at a W. T Grants store. In the 1960's Grants had a pet department, so each night after supper, her dad left the house to go back to the store to take care of the animals. Once she was asked by an adult "Susan, what does your daddy do?", and her reply was "He feeds the monkeys!"
Susan, AKA "Duck", was a loyal, life-long friend to M.J. Andrews. She had a lively sense of humor, and a kind and thoughtful heart. Susan was very creative with arts and crafts, and always had a dollar or some coins to share with any unfortunate person who was begging. Her love and friendship are sorely missed. She was one of a kind.
She was a 1977 graduate of Bentley High School. Susan loved life, and lived through simple pleasures. She had a wonderful, loud laugh, and a beautiful smile. She enjoyed cats, dogs, and when she was little, riding horses.
Surviving Susan are her brother; Thomas (Terri) McLaughlin, her sister; Sarah McLaughlin, her niece; Ricki (Don) Burke, her nephew; Tyler McLaughlin, her great-niece, her great-nephew, and her step-mother; Margaret McLaughlin.
She was preceded in death by her parents.
To honor her wishes, cremation has taken place. A grave side service will be held at 10:00 a.m. on Tuesday, September 27, 2022, at Sunset Hills Cemetery, in Flint, Michigan, with Pastor Dan Bowman officiating. Expressions of sympathy may be shared with the family on Susan's Tribute Wall at detroitcremationsociety.com.
Special thanks to Kougar and Keisha of The Medical Team hospice, and to Mary on the nursing staff at Mission Point, for her friendship, compassion and professionalism.
Let the family know you care by sharing this tribute.