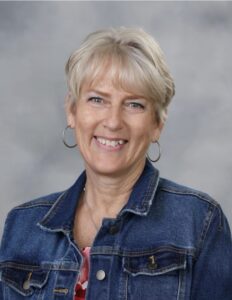 Age 60, died Saturday, September 18, 2021, at Ascension Genesys in Grand Blanc. Mass of Christian Burial will take place 10:00 A. M., Saturday, September 25, 2021, at the Church of the Holy Family, 11804 S. Saginaw St. in Grand Blanc. Fr. Joe Krupp will officiate with cremation to follow. Shelley's family will be present at Martin Funeral Home's, Detroit Cremation Society on Friday from 2:00 P.M. until 8:00 P.M. At 3:00 P.M., family, friends, and parish will gather at the funeral home to pray to the Rosary. On Saturday morning, Shelley will be taken to church to lie in state from 9:00 A.M. until the time of the Funeral Mass at 10:00 A.M. Memorial contributions may be made to Holy Family Catholic Elementary School to go towards the Shelley Corcoran Scholarship Fund. Envelopes will be available at the funeral home, church, or by visiting Shelley's Tribute at detroitcremationsociety.com. Please note, specific roads will be closed in Grand Blanc this Friday evening for the homecoming events.
Shelley was born in Flint, on October 11, 1960, the daughter of Mr. and Mrs. Jeffrey and Lois (Hawn) Hillock-Simpson. In Junior High, Shelley would meet, start dating, fall in love, with and be united in marriage to Chris Corcoran on September 6, 1980, at Calvary Church of Christ in Swartz Creek. She attended Clio schools and graduated from Clio High School with the Class of 1978. After high school, she would go on to attend the University of Michigan in Flint as well as Hawaii Pacific University. In high school, she worked at Little Chef and Clio State Bank. Later in life, her career path would lead her to Citizens Bank, A-1 Fire Protection and Henry H. Stevens Moving and Storage in Flint. For the past 12 years, Shelley has been the receptionist at Holy Family Catholic Elementary School greeting students as they began their school day. Students will always remember arriving each morning with "Happy" welcoming them. Shelley's impact on the students and staff will be held in their hearts forever. She and Chris were members of the Church of the Holy Family in Grand Blanc where she volunteered and assisted in numerous capacities over the years. Shelley was the "ultimate" bargain shopper, shopping for herself and others. TJ Maxx was her favorite shopping destination and her goal was to visit one in each state! She was an avid reader, Danielle Steele was one of her favorites. She was passionate about mowing her lawn and taking care of her flowers. Shelley enjoyed "Medicinal" Mondays with her "Fireball" sisters and "Walking" Wednesdays with Holy Family Athletes. She loved her family and friends and enjoyed life to the fullest and will be missed by all who knew her.
Left to cherish her memory are her husband of 41 years; Chris, two children, Sean Corcoran and Kiley and husband, Paul Gomez, sister, Tracy Holbin, seven brothers and sisters-in-law; Cork and Becky Corcoran, Cathy Pavley, Sue and Terry Weishuhn, Karen Robinson, Julie and Tom Burrows, Amy and Brian Zdanowski and Ann and Al Provow, many nieces, nephews, cousins and friends.
Shelley was preceded in death by her parents, her mother and father-in-law, George and Mary Corcoran, two sisters-in-law, Linda Corcoran and Laurie Bargardi and two brothers-in-law, Scott Holbin and Richard Pavley.
Friends may share a memory with the family at the funeral home, church or online at detrtoitcremationsociety.com.
Let the family know you care by sharing this tribute.