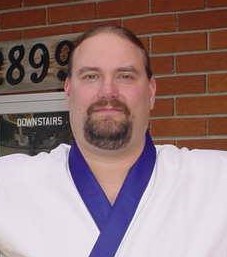 Age 48, of Mt. Morris, died Tuesday, February 23, 2021, at McLaren Flint with his family by his side. A memorial service will be scheduled at a later date. Memorial donations may be directed to The American Leukemia Foundation. Expressions of sympathy may be shared on Scott's tribute at martinfuneralhome.com.
Scott was born in Flint, Michigan on February 1, 1973, the son of Mr. and Mrs. Robert and Rhonda (Maggert) Emery. Educated locally, Scott graduated from Elisabeth Ann Johnson High School with the Class of 1991. He went on to earn his associate's degree in accounting from Baker College. Scott found his passion while studying karate, earning the rank of Sam Dan, 3rd Degree Black Belt. His dream was to pursue owning and teaching in his own martial arts studio. For many years, Scott was involved with PKSA, Professional Karate Schools of America, creating strong friendships with all involved. Scott loved teaching his students the art of karate. He believed children were like sponges with the ability to learn and push themselves given the right motivation. In his free time, Scott enjoyed playing video games. Scott and his girlfriend, Chris often captured nature's moments through photography, sharing those images with family and friends.
Scott is survived by his parents; Robert and Rhonda Emery; sister: Shannon and husband, Randy Smith; nephews: Gage and Hunter; aunt: Shannon Maggert; uncle: James and wife, Joan Emery; cousins: Michael and Brian; loving girlfriend: Chris; and several close friends.
Scott was preceded in death by both sets of great-grandparents; and both sets of grandparents.
Let the family know you care by sharing this tribute.