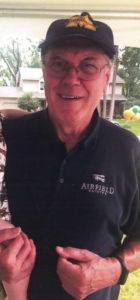 Age 71, of Grand Blanc, Michigan passed away unexpectedly at home, on Sunday, May 29, 2022.
Russell was born on April 4, 1951 in Port Huron, Michigan to the late Ward and Lucie (Meade) Beard. Russell retired in 2016 as a Metallurgist. He received an Associates degree in technology in 1975, from Wayne State University, a Diploma in Commercial Deep Sea Diving, in 1976 from the Coastal School of Diving in California, and an Associates degree of General Studies in 1994 from Macomb Community School College. He continued his education in the Metallurgical field at Lawrence Institute of Technology and the Materials Engineering Institute. He was an active member of the American Society of Metals.
Russell married Diane Paquette on May 28, 1977 in Sault Ste. Marie, Michigan, and they were happily married for 45 years.
Russell is survived by his wife, Diane Paquette-Beard; two sons; Todd Beard, and Glenn, and wife, Bridget Beard, his six grandchildren; Zoey and Jonah; Connor, John, Owen and Kate; his sister, Mary, and husband, Steven Campbell, his three brothers; William Beard, James Beard, and Thomas, and wife, Diane Beard, along with many aunts and uncles; (Elizabeth Beard Patterson ((Jerrold, deceased)) were his mentors for sailing and diving), cousins, nieces, nephews, brothers-in-law, and sisters-in-law.
He loved sailing, and was a certified scuba diver who explored the waters in the Red Sea, Hawaii, Mexico, the Caribbean, California, Canada, and Michigan. Russell was an avid biker, averaging 15 miles a day in his retirement years. When the weather conditions were unfavorable for biking, he would walk in the Grand Blanc Commons. He also loved playing his keyboard and taking underwater photos on his diving excursions.
A Celebration of Life will be held at Detroit Cremation Society, at 8253 S. Saginaw St. Grand Blanc, Michigan 48439, on Saturday, June 4th, 2022. The family will receive friends from 2:00 PM to 5:00 PM.
In lieu of flowers, the family asks that you consider donating to the Food Bank of Eastern Michigan, or a charitable organization of your choice. Fond memories and expressions of sympathy may be shared at www.detroitcremationsociety.com for the Beard Family.
Let the family know you care by sharing this tribute.