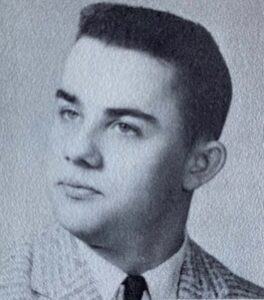 Age 81, of Frankenmuth, formerly of Saginaw, passed away on July 4, 2023.
Bob was born on September 11, 1941 in Marlette, Michigan. He graduated from Kingston High School in 1960 where he was active in debate, student council, yearbook, band and theater. At 17 1⁄2 years old (with his mother's consent) he enlisted in the United States Naval Reserve. He served as a Hospital Corpsman and was stationed at Great Lakes Naval Hospital while on active
duty.
Following his discharge from the Navy, Bob worked his way through school and earned an associate degree. He worked as a radiologic technologist at Saginaw Osteopathic Hospital, where he was also the clinical instructor for radiologic technologist students, and later St. Luke's Hospital (now Covenant Health Care) and retired in 2006 after 35 years.
Bob possessed a variety of interests and skills. He was a certified Master Automobile Mechanic and spent countless weekends and evenings repairing cars for family, friends, co-workers, or anyone else who needed a good mechanic. His artistic side was displayed in his self-inspired rock gardens, flower beds, snow sculptures, and elaborate sandcastles (with working draw bridges). Bob was an animal lover and he was always there to help neighborhood animals in need, whether it was a stray cat, injured bird, or occasional turtle. When not at the hospital, in the garage, or working outside, Bob enjoyed Star Trek, trivia games and hanging out at the local auto parts store with his friends. But no matter was he was doing, Bob was not afraid to tell you what he thought about you.
Bob is survived by his daughters Stefanie Schwaderer, and Amy (Thomas) Henthorn, and sons Aaron (Julie) Schwaderer, and Adam (Shelley) Schwaderer; grandchildren Andrew, James, Erin, Claire and Emilee; sisters Chris (Russ) Otterbine and Shelly Roland Schwaderer.
Funeral Liturgy will take place at 11:00 am Saturday, July 15, 2023 at St. John Vianney Catholic Church, 2415 Bagley Street, Flint, Michigan. Visitation will be the same day at the church beginning at 9:00 am. There will be a lunch reception following the liturgy.
Expressions of sympathy may be shared with the family on Bob's Tribute Wall at detroitcremationsociety.com. In lieu of flowers, those planning an expression of sympathy may wish to consider gifts to the Michigan Humane Society.
Let the family know you care by sharing this tribute.