Richard Mark Berger (Dick)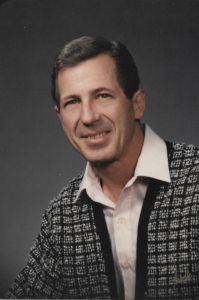 Richard Mark Berger (Dick), 85, of Fenton, Michigan, made his final exit from worldly existence on Tuesday, November 7, 2023. He died peacefully, surrounded by family, at Ascension Genesys Hospital in Grand Blanc, MI, of complications from multiple health issues.
Richard was born January 6, 1938, in West, Texas. A lifelong lover of the water, he trained as a lifeguard, and once rescued his younger sister, Joan, from risk of drowning in a neighbor's pool. Later he spent time scuba diving, snorkeling, and sailing. He dove everywhere he went, pulling up old anchors and catching sea bass and sheepshead on Ascension Island, catching scores of lobsters in Freeport, Grand Bahama Island, and dozens of conchs in St. Croix, USVI.
His interest in aircraft and engineering began in childhood when he made model airplanes from balsa wood and silk, then painted them and installed little engines to fly them. He attended University of Texas at Austin in 1957 before enlisting in 1958 in the US Air Force, where he was selected for specialized technical training.
His military service took him to Seville, Spain; Saudi Arabia, Turkey, and Topeka Kansas, where he met his first wife, the mother of his daughter, Darlene Berger. He was honorably discharged after nearly 5 years in October 1964.
Dick had a long career as an electronics engineer working for McDonnell Aircraft Corp, RCA, Honeywell, and General Motors. While working for RCA, Dick worked on Apollo 11, the first human spaceflight to land on the moon, monitoring the crew and spacecraft.
For many years, Dick adored playing tennis with his wife, Nancy Alice (Lovejoy) Berger, whom he met in Freeport, Grand Bahama Island. He spent many hours perfecting his game and won many tournaments.
Dick loved dressing up in colorful socks and vests. He cultivated a man-about-town style with his canes and his bartending repertoire. He loved making and drinking Bourbon Old Fashioneds and Paper Airplanes.
He is survived by his wife, Nancy; his daughter, Darlene; son-in-law, Paul Fortin; sisters and brothers-in-law, Joan and Marvin Nors and Andrea and Royce Walston; sister-in-law and husband, Ellynn and Richard Elsholz; and many nieces and nephews and other family and friends.
He is preceded in death by his parents, Isidor and Josephine (Detterman) Berger; his brother, Clarence Berger and sister-in-law, Sophie (Svacina) Berger; and his mother; father-in-law, Mark and Verna (Michels) Lovejoy.
A memorial service is planned at First Presbyterian Church, 503 South Leroy St., Fenton, Michigan, on November 25, 2023 at 1:00 pm.
Let the family know you care by sharing this tribute.