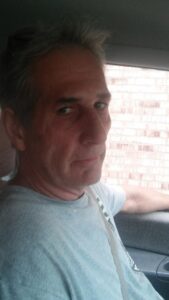 Age 63, of Montrose, passed away unexpectedly on Sunday, November 7, 2021 at home. In accordance with his wishes, cremation has taken place. Memorial contributions may be considered to POW MIA at www.pow-miafamilies.org. A Celebration of Life will take place from 4:00 pm to 8:00 pm on Wednesday, November 17, 2021, at the Montrose Pub, 10174 Vienna Rd., Montrose. Expressions of sympathy may be shared with the family on Richard's Tribute Wall at detroitcremationsociety.com.
Richard was born on January 13, 1958, in Jonesboro, Arkansas, the son of Mr. and Mrs. Billy and Elizabeth (Deeds) Lansford. Richard would heed the call to serve his country, and enlisted in the United States Marine Corps. Richard's life-long passion for cars stretched from watching NASCAR to racing with his brothers. He also had his own antique toy car truck collection. Richard enjoyed listening to music, fishing, and spending time outdoors. He cherished his family camping trips dearly. Richard was proud of his work, building R&L drywall and making a life for himself with his business accomplishments.
A family man at heart, nothing made Richard more proud than his daughters.
Left to cherish his memory are his wife; Lori Bailey-Lansford, five daughters; Terry Totten, Arica Lansford, Racheal Colman, Jessica Bailey, Sara Holder, eight grandchildren, three siblings; Robert Lansford, and family, Rhonda Jordan, and family, Mary Johnson,
father-in-law; Herbert Sniff, sisters-in-laws; Angela Bailey, and family, Tammy Dewitt, and family, and 18 nieces and nephews.
Richard was preceded in death by his parents; brother; Russel Lansford, sister; Wendy Jurzysta, mother-in-law; Laura Sniff, and brother-in-law; David Bailey.
Friends may share a memory with the family online at detroitcremationsociety.com.
Let the family know you care by sharing this tribute.