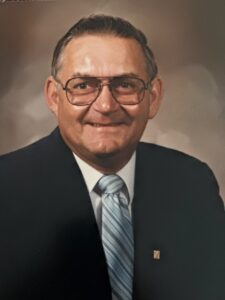 Richard James Nelson of Clarkston, passed away Monday, October 30, 2023 at the age of 92. A Funeral Service will take place at 12:30 pm, Tuesday, November 7, 2023, at Detroit Cremation Society in Grand Blanc, Michigan-Chaplain Dwight Murphy to officiate, with burial to follow at Great Lakes National Cemetery. Richard's family will be present to receive friends at Detroit Cremation Society in Grand Blanc, Michigan on Tuesday from 10:30 am, until the time of the service at 12:30 pm. Memorial contributions may be considered to Mid-Michigan Honor Flight, Brave Hearts Estates, or Adopt – A – Pet of Fenton. Expressions of sympathy may be placed on Richard's Tribute Wall at detroitcremationsociety.com.
Richard James (Dick) Nelson was born on March 13, 1931, in Detroit, Michigan, the son of Mr. and Mrs. Harry and Helen (Ouellette) Nelson. On April 10, 1951, Richard heeded the call to serve his country and enlisted in the United States Army & served in Korea until his honorable discharge on April 9, 1954. He spent many of his years living at Duck Lake in Highland Michigan both as a young man with his parents and siblings and then later building a home on the lake for his own family & helping his true love Rosemary raise 5 children. In his free time, Richard enjoyed golf, fishing, photography, The Ham Radio Club of Milford(WB8AKH), bowling and spending time with family and friends. He worked for Sears, General Motors Proving Grounds (30 years), Ace Hardware, The Pines Golf Course at Michaywe & the Emergency Management in Gaylord Michigan.
Surviving Richard are his two sons; David and partner Lorna, Mark and wife, Dawn (Chapelle) Nelson, his three daughters, Connie and husband, Steve Rae, Elaine and husband, Paul Cooke, and Lisa and husband, Allen Bana, his brother; Tom and wife, Bonnie Nelson, his brother-in-law; Jack Smith, his brother-in-law; Richard, and wife, Joann Whell, 11 grandchildren, 16 great-grandchildren, as well as several nieces, nephews, and friends.
Richard is preceded in death by his beloved wife; Rosemary (Whell) Nelson, his parents; Harry and Helen Nelson, his brother; Ted Nelson, His sisters; Pat King and Nancy Smith, his daughter-in-law; Patti Nelson and his grandson; Jason Rae.
Let the family know you care by sharing this tribute.