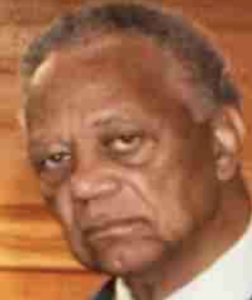 Age 91, of Flint, passed away on July 13, 2023. In accordance with his wishes, cremation has taken place. Expressions of sympathy may be shared with the family on Raymond's Tribute Wall at detroitcremationsociety.com.
Raymond Melton was born August 27, 1931 in Athens, TN. He was born to James and Ethel Melton as the youngest of nine children. He graduated from McMinn High School where he played basketball and football. After high school, he was drafted into the US Army where he served as a military policeman. While stationed in Michigan, he met the love of his life Jeanne Cobb. They were married September 6, 1953. Unto this union was born three children Gene, Helynn and James. Raymond supported his family working for Chevrolet Manufacturing for 30+ years as a Oiler.
Raymond later learned the truth and was baptized as a Jehovahs Witness on July 11, 1959 where he stayed faithful for 64 years. Raymond lived his life for Jehovah. He had the privilege of serving as a Elder and then as Presiding overseer for the then Flint Central congregation. In later years, he served as a pioneer for 10 years assisting many to learn about the God he loved. Those who knew Raymond knew he was a man that did anything to support his family and friends; the kind of guy that wouldn't think twice about giving his shirt of his back. Among the many things Raymond loved to do is making annual family trips to Tennessee. One of his fondest memories is the year the whole family rented out a large chalet in the Great Smokey Mountains. Raymond loved being out in nature. He raised dogs and loved to take them out in the woods, calling it "running the dogs".
Raymond was proceeded in death by both parents and his 8 siblings, Henry, Martin, Albert, Cletus, Stova, Mary, Louise & Zelma. and his oldest Son Gene Melton.
Raymond is survived by his wife of 69 years Jeanne Melton, Daughter Helynn Mitchell of Flint, MI., Son James (Susan) Melton of Lansing, MI. Grandchildren Raymond (Michelle) Melton, Amanda Mitchell, Jennifer (Kevin) Hobson, Geneyce Melton, Elijah (Ciera) Melton, Nigel Melton, Julian Melton. Great-grandkids Kevin & Brooklynn Hobson, Jordan and Alana Melton, and Alayah Melton. a Special friend Lawrence Nichols, and a host of Nieces and Nephews, and many spiritual family and friends.
Raymond lived his life knowing that one day the promise that he held so dear would be a reality and no matter if he walked in or woke up in, he did everything he could to make sure he would be there along with his whole family.
Raymond's obituary was written by his loving family.
Let the family know you care by sharing this tribute.