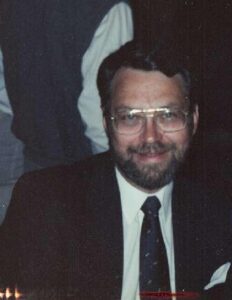 Randolph (Randy) C. Crandall was born May 8th, 1949 in Windsor, Ontario Canada. He passed away on February 14, 2023 with family at his side. He was a devoted husband, brother, father, and grandfather, a true family man, until he began suffering the effects of dementia (FTD). He was preceded in death by his parents, William and Terry Crandall, grandson Patrick Baldwin and son-in-law Pat Baldwin. He was 73.
Randy enjoyed many things; cooking (a true Chef), camping, fishing, reading and traveling. He especially loved gathering family and friends together over a great meal and spoiling his grandchildren at every opportunity. Randy's chosen profession was an electrician; working for the I.B.E.W. Local 58 until his retirement.
Randy leaves behind his wife, Bethany Crandall – Sisters, Lynn (Mike) Smith and Susan (Cy) Childs – Sons, William (Tina) Crandall, Todd Crandall, and Christopher (Teri) Crandall – Step-daughters, Paula Baldwin, Donna Millikin and Amy (Tracey) Crane – Grandchildren, Hannah, Grace, Christopher, Wyatt and Ethan Crandall, Pamela Baldwin, Emily and Mitchell Henley, Corey Chaney and Madison (Mac) Marshall, along with three great-grandchildren, and two nieces.
In lieu of flowers, the family asks that anyone wishing to honor Randy's memory to make a charitable donation to The Association for Frontotemporal Degeneration at https://www.theaftd.org/. A memorial service will take place at 3:00 pm on Sunday, February 26, 2023, at Detroit Cremation Society, 8253 S. Saginaw St. Grand Blanc, Michigan, Mark Smith to officiate. Randy's family will be present to receive friends from 2:00 pm until the time of the service at 3:00 pm.
Randy's obituary was written by his loving family.
Let the family know you care by sharing this tribute.