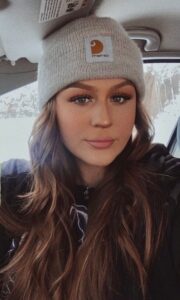 COVID-19 UPDATE: Martin Funeral, Cremation & Tribute Services are complying with the state of local gatherings guidelines. Please contact us if you have any questions.
Age 20, died Thursday, April 21, 2021, in Vassar. In accordance with Maddy's family's wishes cremation has taken place. A Celebration of Life will be held from 12:00 pm until 8:00 pm on May 4, 2021, at Maddie's home. Condolences may be shared on Maddie's tribute page at cremationchoices.com.
Maddy was born on May 4, 2000, in Vassar, Michigan. It is with heavy hearts we have to say goodbye to Maddy, whose life has ended before it could truly begin. There wasn't a room Maddy couldn't light up with her smile, her outgoing, loving personality was contagious. She was a creative soul with a heart of gold. Maddy was a doting daughter to her mother, always worried about everyone else. She was both beautiful inside and out. To know Maddy was a great blessing to everyone that loved her. Although she has been taken so soon from this world, her love of life will live on through us all.
Maddy is survived by her parents: Debra and Casey Esterline; father: Marcus Swims; brothers: Ronnie Huyghe and Aaron Esterline; sister-in-law: Leslie Huyghe; grandmother: Opal Swims; grandparents: Jim and Sue Esterline; many aunts, uncles, and cousins.
Maddy's obituary was lovingly written by her family.
Let the family know you care by sharing this tribute.