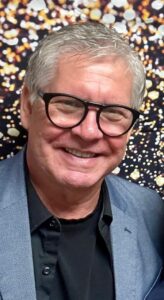 Michael Stefanski, age 65, of Roseville, California, passed away on August 1, 2023. He was born on April 22, 1958, in Flint, Michigan, the son of Mr. and Mrs. Anthony and Marian (Roberts) Stefanski. He graduated from Grand Blanc High School and attended The University of Michigan-Flint. He later received his BBA and MBA from the University of Phoenix.
Michael had a beautiful tenor voice. He sang in the Chamber Choir and the University Chorale at UM-Flint and had a life-long love of acapella choral music and musicals. He also loved a good adventure, being one of the first Backroads customers in the world, cycling with the founder of the company and his father in Hawaii. Michael enjoyed golf, cycling, pickleball, cruises, and just spending time with his family and close friends, and he especially loved being with his grandsons, Enzo and Logan. He had a
kind and generous heart and a wonderfully animated sense of humor. Michael was always making people around him feel welcome and he always seemed to have time for others, even if it was to give someone a ride to the airport at 5 am.
In both his work life and his personal life his spirit, kindness, and desire to mentor others was legendary. For 20 years, Michael loved working at Koegel Meats in Flint, Michigan until moving to Sacramento in 2000. There he worked in Sales Operations and Customer Loyalty at Verizon for more than 16 years, receiving many accolades while at the same time also earning his MBA. He then completed a Tax Specialist licensure and became a tax, audit and accounts receivable specialist in multiple companies.
Michael is survived by his former wife of 27 years, Rebecca Cason, stepson Arron Schneider, grandsons Enzo and Logan, sister Sheryl Marzonie and her husband Chris Marzonie, brother Allen Stefanski and his wife Veronica Schaner Stefanski, brother Bob Stefanski and his wife Lynn Brown, sister Kathryn Stefanski James, nephews Eric Stefanski, Nick Stefanski, Paul Stefanski and Jack Stefanski, nieces Charlee Stefanski and Riley James, many step nieces and nephews, and his dear friend and significant other, Rachel Kang.
Michael is preceded in death by his parents, Marian and Anthony Stefanski.
Michael set the example for a life well lived, even in the face of adversity. His legacy will live forever, and he will be greatly missed by so very many.
May he rest in peace.
Funeral Mass will take place at 10:00 am, Friday, August 18, 2023, at Church of the Holy Family, 11804 S. Saginaw St. Grand Blanc, Michigan 48439, Fr. Joseph Krupp to officiate. Burial at New Calvary will follow.  On Friday morning, Michael will be taken to church to lie in state from 9:00 am until the time of service at 10:00 am, with a Rosary Service to take place shortly after 9:00 am. Michael's family asks, memorial donations may be made to the Barrow Aneurysm and Brain Research Center, donations can be made at; https://www.supportbarrow.org/programs-that-save-lives/avm-cerebral-aneurysm-research/. Expressions of sympathy may be shared with the family on Michael's Tribute Wall at detroitcremationsociety.com. Michael's obituary was written by his loving family.
Let the family know you care by sharing this tribute.