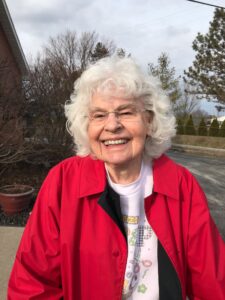 At the distinguished age of 98, Maxine Porter passed away on July 14th, 2023. Before her passing, she resided at the Oaks in Grand Blanc Michigan, and was loved by the staff there, as much as she was by her family and friends that knew her before she took residence at The Oaks in 2019. Those who knew and loved Maxine will remember her easy-going nature, amusing quirks, beaming smile, and her luxurious white head of hair that brought jealousy upon ladies young and old.
Maxine Ila Porter was born December 22, 1924, in Laurium Michigan, to her parents; Levi and Mary (Balch) Whipple. She was one of 6 siblings, only 4 of which survived past childhood. Maxine's father was a lighthouse keeper, so she traveled with her family and took residence at 6 different lighthouses around Michigan. She spent her most memorable years at the Rock of Ages Lighthouse located in Eagle Harbor, in the Upper Peninsula, and at Fort Gratiot Lighthouse in Port Huron, Michigan. Her life as a lighthouse-keeper's daughter was not an easy one, but despite the odds, she kept her sweet and loving nature with her as she matured.
In her younger years, Maxine worked in various settings, from a malt shop, to a residence as a maid, to a seed sorter in the Agricultural Department at Iowa State University. Sometime after Maxine met her beloved Husband, Roger Porter, she transitioned to farm life, taking residence at the Porter's Apple Orchard, in Goodrich, Michigan. Maxine and Roger raised their two children, Gay and Raymond on the farm where she pitched in wherever she was needed.
In 1976, the Porter's Apple Orchard donut shop opened, and Maxine took the position of head baker. She produced the most meticulously made, (and delicious!) donuts around, bringing joy to visitors that patronized the orchard for years to come. Maxine ran a tight ship in the donut shop where she chased down every rogue fly with reckless abandon, policed prompt and thorough hand washing of the employees, and got down on her hands and knees to scrub the floor each evening until that donut shop shined! Despite the expectations of perfection and cleanliness in the donut shop, Maxine always had a good sense of humor and could take a razzing like the best of them. In her older years, she worked in the office managing the accounting and logging the books at the end of each day. Maxine fully retired at the youthful age of 90. Her work ethic and commitment to the family farm was an inspiration to those around her.
Maxine, Mac or 'Mac a Buzz', as her husband affectionately called her, was well-loved by all that knew her, especially Roger. He was a kind, hard-working man and Maxine was his muse. There are countless stunning photographs that he took of her to prove it!  Roger and Maxine shared a special love that started during World War II. Roger's sister Faith was a dear friend of Maxine's and suggested they correspond via letter while Roger was away. In Roger's own words, it took him a while to realize the remarkable woman that he was writing to, but once he had her, he never let her go. They lived happily together in their marriage from December of 1946, until Roger's passing in July of 2005.
Maxine lived a quiet, purposeful life, where she worked diligently for the family farm and dedicated herself to God as a life-long member of the local United Methodist Church.  She cared for her husband in his battle with Parkinson's, planted her favorite trees and flowers around the property, bird-watched, and took care of her grandchildren in their younger years, making sure to spoil them with many treats at every visit. From humble beginnings to a humble end, Maxine brought pure love, raucous laughter, tasty confections, beautiful gardens, measured responses, and joyful smiles into this world, and graciously shared them with all who had the honor of knowing her.
Maxine is survived by her Daughter; Gay Porter, Son; Raymond (Dee) Porter, her 3 Grandchildren; Donald (Catherine), Elizabeth and Joshua Porter, and her 2 Step-grandsons; Domanick and Joseph Hartwick. 
Maxine is preceded in death by her treasured Husband; Roger Porter, her Siblings; Kenneth, Peggy, and Doris, and her Step-Grandson; Tony Hartwick.
Memories and expressions of sympathy may be shared with the family on Maxine's Tribute Wall at detroitcremationsociety.com.
The family will receive friends and loved ones for a visitation Tuesday, July 18 from 6-8 pm and a Celebration of Life Service will be held Wednesday, July 19 at 2:30 pm at Goodrich United Methodist Church, 8071 S. State Rd. Goodrich, Michigan 48438, (810) 636-2444, with refreshments and fellowship to follow.
In Lieu of flowers, the family requests that donations be made in Maxine's honor to "The American Brain Foundation", "The Methodist Children's Home Society", or "Goodrich United Methodist Church".
Maxine's obituary was written by her loving family.
Let the family know you care by sharing this tribute.