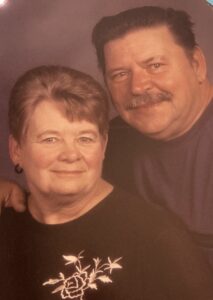 Mary Sue Helzer (Stephan – Holbrook)
Passed away on July 6th of this year (2023)
Preceeded in death by Paul (d. March 2023) her husband of 34 years. Also her first beloved husband, Lamarr Stephan (d. May 1988) married 28 years.
Mary is survived by her three children, Mark (Melissa) Stephan, Gary Stephan, and Sheryl (John) Soetebeer.
She had two step children, Paul Richard Helzer (d. 2022) and Becky Helzer.
Her grandchildren, whom she doted on, will miss her dearly. Shannon (Brandon) Montgomery of Oklahoma, Paige Stephan of Michigan, John Louis Soetebeer of Oklahoma. Her step grandchildren Arron, Heidi (Jesse), Kaitlyn, Gabriel, and Elizabeth. She was a proud great grandmother of Lucas and seven step great grandchildren.
Mary was born in Pontiac, Michigan on June 4th, 1941. She is a graduate of Avondale High School, class of 1959. She was employed by Pontiac School District until her retirement in 1996.
Mary was a snowbird. She resided in northern Michigan during the summer months where she enjoyed gardening, campfires, and whatever the water and wilderness brought her way. In the winter months her home was in Florida where she embraced her community making many friends. She enjoyed helping organize, plan, and perform in plays, dance recitals, parades, and outdoor concerts. Her favorite place was in the pool where she enjoyed the ocean breeze and nice warm sun.
Mary was loved by many and her joy for life will be missed.
A memorial for Mary will be held on Saturday, August 19th, 2023 from 3PM until 5PM.
The American Legion Hall
8047 Ortonville Rd. (M-15)
Clarkston, MI 48348
In lieu of flowers, please donate to your local charity.
Mary's obituary was written by her loving family.
Let the family know you care by sharing this tribute.