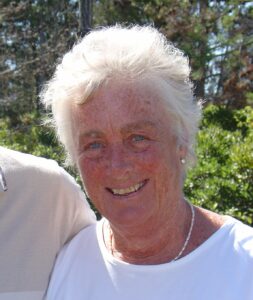 Age 89, of Grand Blanc, Michigan, passed away on September 19, 2022. A Mass of Christian Burial will take place at 10:00 am, Tuesday, September 27, 2022, at Church of the Holy Family, 11804 S. Saginaw St. Grand Blanc, Michigan 48439, Fr. Joseph Krupp to officiate, with Fr. Lorenzo Gomez concelebrating, with luncheon to follow. A private family burial will take place after the luncheon. Mary Anne's family will be present to receive friends from 5:30 pm until 8:00 pm, on Monday, September 26, 2022, at Detroit Cremation Society, 8253 S. Saginaw St. Grand Blanc, Michigan 4839. At 6:15 pm on Monday, family, friends, and parish will gather at the funeral home to pray the rosary. On Tuesday morning, Mary Anne will be taken to church to lie in state from 9:30 am until the time of service at 10:00 am. Mary Anne's family asks, in lieu of flowers, memorial donations may be made to the Legionaries of Christ. The Mass will also be live streamed on Holy Family's Facebook page and YouTube channel. The Facebook page can be found at www.facebook.com/HolyFamilyGrandBlanc/ and the YouTube channel can be found at www.youtube.com/channel/UCWXl9FNx5mqQZ1UHRPIj5Tw. Expressions of sympathy may be shared with the family on Mary Anne's Tribute Wall at detroitcremationsociety.com.
Mary Anne Bell was born in Providence, Rhode Island, on September 8, 1933, the feast of the birth of the Blessed Virgin Mary. It was also the birthday of her mother, Delphine (Vhay) Bell, married to Dudley Bell. Delphine named her birthday present Mary Anne after the Blessed Virgin and her mother, St. Anne. The Bell family lived in various locations during Mary Anne's youth, including different towns in Ohio and Massachusetts, as well as Skaneateles, New York. She sometimes visited Bloomfield Hills, Michigan, where her mother had grown up and still had many friends. One of these friends was Martha Williams, mother of Bill Williams, with whom Mary Anne played in the sandbox, and who would later become her husband. Mary Anne attended high school at Kenwood Academy of the Sacred Heart in Albany, New York. The teaching of the Sacred Heart sisters made a profound impact on her, and at the academy, she fell in love with Jesus Christ and pledged her life to follow Him and His will for her. After high school, Mary Anne took employment teaching nursery school and dated various local young men. She prayed a fifty-four-day rosary novena for a good Catholic husband, and on the fifty-fourth day of that novena, Bill Williams went AWOL from the Air Force to come and propose to her. Bill and Mary Anne were married on July 6, 1957, and would come to enjoy sixty-four happy years of marriage together. They lived first in Birmingham, Michigan, and later settled in Bloomfield Hills, Michigan. They received the gift of their first child, Mary Emeline, on April 24, 1958. From that day until her death Mary Anne threw her whole heart into motherhood, identifying it as her God-given vocation, the embodiment of her high school decision to follow the will of God with all her heart. One year and nine months after Mary Emeline's birth, she passed away abruptly, and Mary Anne received the grace to embrace the moment within the context of God's loving Will in her life. This moment cemented her faith, trust, and focus for the rest of her life. Bill and Mary Anne went on to bring four boys into the world, and Mary Anne dedicated herself full time to the task of motherhood. At times, she would receive unwed mothers with nowhere to turn into her home to live until they got onto their feet. As the boys got older, she found time during their school day for other pursuits, among them tennis and entrepreneurship; she began a successful home-based crafts business. She loved spending time in the family's vacation cottage on Nantucket, where her siblings likewise owned vacation homes with their families. Back home in Bloomfield Hills, the young Catholic priestly congregation of the Legionaries of Christ established themselves with a youth program, and Mary Anne found in them worthy allies in raising her children. She ultimately started a women's group with the Legionaries within their lay Regnum Christi movement, which became a primary focus of her time once her sons had moved out of the house. She became a spiritual director within the growing movement that she co-led, and at one time she was seeing one hundred women in regular spiritual direction. She counseled from her own profound commitment to God and to motherhood. Many would later testify that her counsel played a large role in the deepening of their conversion to Christ, and even life-changing decisions in favor of motherhood. Mary Anne was blessed with a joyful, spontaneous, enthusiastic, others-centered soul and personality that was a pleasure to experience. Throughout her married years she gave abundantly to numerous charities, among which were several pro-life causes, which brought her much joy. In her later years, her home with Bill first on Parke Lake in Clarkston, Michigan and then in Grand Blanc, Michigan was a locus of enjoyment and happiness for her children and grandchildren. As a grandmother, she continued her motherly focus in a special way through dedicated time of daily prayer and self-offering for her children and grandchildren. She continued this practice right up until her death, expressing with great joy and peace how she was offering the difficulties of her ALS condition for each of them. Mary Anne, a light in the lives of so many, and especially those of her own family, will be deeply missed.
Surviving Mary Anne are her four sons; John (Ellie) Williams, Thomas (Elizabeth) Williams, Michael (Lisa) Williams, Matthew (Patricia) Williams, her three siblings; Emily (Morgan) Mahoney, James (Holly) Bell, Thomas (Diana) Bell, her ten grandchildren, and her five great-grandchildren.
Mary Anne was preceded in death by her loving husband; William Willams III.
Let the family know you care by sharing this tribute.