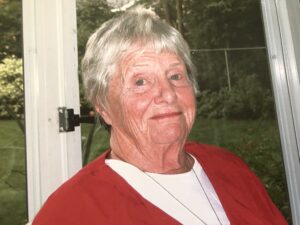 Marilyn Barbara Hinton, neè Prochnow, died on August 16, 2022, in Grand Blanc, MI at the age 97. She died peacefully at home in the presence of her loving family and friends. Marilyn was born on February 6, 1925, in Davenport, Iowa, to Edwin and Emma (Kohlhammer) Prochnow and her older sister Betty Jane. Her brother Ned was born two years later (almost to the day).
Marilyn graduated from Davenport High School in 1943, and went on to attend the University of Iowa, where she earned a degree in psychology. She later attended National College of Education in Evanston, IL, and became a kindergarten teacher. She taught kindergarten at Grant School in Davenport for eight years, before starting her family.
In February 1952, Marilyn took six months off and sailed across the Atlantic Ocean on the USS United States to visit her sister and her family who were living in England. She was one of the few passengers not to suffer sea sickness on the rough, winter crossing.
Marilyn married Richard (Dick) H. Hinton in 1956. They had two children, daughter Barbara, and son Jeffery. While Marilyn was a stay-at-home mom, she and Dick were both involved in their community. Marilyn was on the PTA, served on St. Anne's Guild at Trinity Episcopal Church, and was active in the Women's Auxiliary of St. Luke's (Genesis East) Hospital. She also volunteered as a part-time pre-school teacher at the Friendly House in Davenport.
After the early death of her husband, Marilyn went back to work, as a reading instructor; she later founded a pre-school at St. Paul's Catholic School. After she retired, she pursued her passion for travel. She loved to go on Elder Hostel (Road Scholar) adventures and made several trips to Europe.
Marilyn was a talented sewer, needleworker, and knitter. She made clothing for herself, her children, and countless dolls. She needlepointed numerous pillows, cross-stitched wall hangings, and Baby's First Christmas stockings and knitted prayer shawls and fruit caps for newborns. Many people have received the bounty of Marilyn's talented hands.
At the age of 84, Marilyn moved to Grand Blanc, Michigan to live with her son. She joined the local Episcopal Church and got involved in a knitting group, a book club, and a water aerobics class. The last time she attended the swim class was two months before her death.
Marilyn is survived by her son, Jeffrey Hinton, and her daughter, Barbara Boldt (Robert Knickrehm), nieces, Ann Armstrong and Jan Ellison, and nephews, Steven Prochnow, and Don and Bruce Lorenzen. Marilyn was preceded in death by her parents, Edwin and Emma, her husband, Richard, her sister, Betty Jane, and brother, Ned.
A memorial service for Marilyn will be held in the Chapel at Davenport Memorial Park on Friday, October 28, 2022. Details will be announced one month before.
The family asks in lieu of flowers, to please make memorial donations to Meals on Wheels of America. Expressions of sympathy may be shared with the family on Marilyn's Tribute Wall at detroitcremationsociety.com.
Marilyn's obituary was written by her loving family.
Let the family know you care by sharing this tribute.