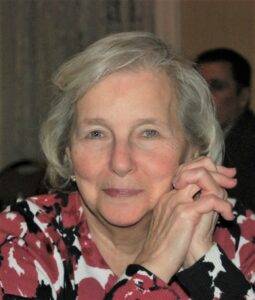 Passed away peacefully on September 9, 2021. She was 89 years old.
Marge was born in Detroit, on October 6, 1931, the daughter of the late Joseph and Anna (Scerba) Molnar. She graduated from Lincoln Park High School in 1949. Marge married Gerald (Jerry) Duane on February 4, 1950 and together they raised five children. Their three boys were raised in Taylor, Michigan, and in 1972 they moved to Greenbush, Michigan, where they raised their two girls. In 1992, Jerry and Marge moved to East Tawas. Jerry preceded her in death in April of 2003 and in 2010, Marge moved to Ortonville, Michigan to live with her daughter and son-in-law.
For many years, Marge worked as a cleaning maid in hotels as well as several homes in the Oscoda area.
Marge loved to crochet, cross-stitch, and needlepoint. She also liked to sew and quilt and made crocheted afghans for many family members. Marge was quite adventurous. She joined her family in snowmobiling, cross-country skiing, hiking, biking, boating, riding a wave runner, planking, Velcro-wall, and anything else she was offered to try. She also loved attending her grandsons' soccer games and tournaments. Marge was a very sweet and cheerful person. She was always kind, loving, and had a great sense of humor. The strength she exuded through the tough times in her life came from her Slovak heritage and her positive attitude toward life. Everyone who knew her was blessed by her presence.
Marge is survived by two sisters, Irene Redlowske and Rose Pomaville; five children, Gary (Chris) Duane, Dennis (Cherie) Duane, Michael Duane, Ann Marie (Jerry) Nelson, Michelle (Richard) Pack; 12 grandchildren; 18 great-grandchildren; and many nieces and nephews.
Marge was a gentle soul and will truly be missed.
Let the family know you care by sharing this tribute.