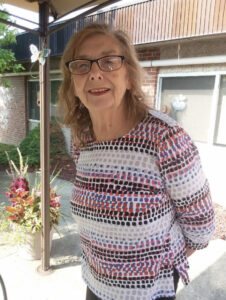 Margaret Judd, age 78, passed away February 11, 2022, at McLaren Flint. Cremation has taken place. A private Family Farewell will be held on Thursday, February 17, 2022. Friends may share a memory with the family on Margaret's Tribute Page at detroitcremationsociety.com.
Margaret was born on September 6, 1943, in Pitt Gas, Pennsylvania, the daughter of Mr. and Mrs. Kasmear and Margaret (Sebella) Parcheta. She was the oldest of three girls.
Marge married Ron Judd on July 27, 1968, and would spend the next several years raising her four sons; Jeff, Scott, Kenny, and Ronnie, who undoubtedly, kept her on her toes.
Margie spent her free time bowling on a league or playing cards. She loved her coffee and the latest gossip magazines, but her one true love was her family. Over the years she was blessed with many grandchildren, followed by great-grandchildren.
Marge spent the majority of her life, both professionally and personally, caring for others. She loved to look after everyone. Whether it be her own family, or a family that hired her to do so, she was the best at it.
Anyone that knew Marge, knew that she would always be there for you. Her door was always open, the best meals on the table, a warm place to lay your head, and of course, some free advice.
She loved a lot and she loved hard. Her family, always, being her number one priority. Her devotion and love to each of them was admirable and unwavering. Margie was honest to a fault and never ceased to speak her mind or make you smile. She was the epitome of strength and her family loved her very much. She was the glue that held them together and the boat that kept them afloat. She will forever be in our hearts and she will be sorely missed by many.
Marge leaves behind to cherish her memory her two sons; Jeff, and wife, Lori Yager, and Ron Yager, her two sisters; Karen Jones, and Lesa, and husband, Gene Jedlowski, her six granddaughters; Ashley, and husband, Paul Perez, Brianna Odette, Amanda, and husband, Cody Roselles, Becky Yager, Chrissy, and husband, Tim Lomax, and Jessica Yager, her five grandsons; Cuyler Yager, Jeffrey Yager, and partner, Richard, Sean, and wife, Amanda Harvey, James Yager, Jacob Yager, 18 great-grandchildren, and many other family members and friends.
Margaret was preceded in death by her parents; Kasmear Parcheta, and Margaret (Sebella) Turpin. Her husband; Ron Judd, two sons; Kenny Judd, and Scott Yager, daughter-in-law; Jackie Yager, brother-in-law; Don Jones, and best friend; Jackie (Kipp) Boggs.
Let the family know you care by sharing this tribute.