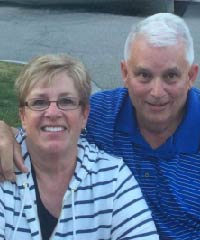 Marcia Burns of Holly, Michigan, age 68, died Thursday, September 28, 2023, at Ascension Genesys Hospital in Grand Blanc. Honoring her wishes cremation has taken place. A Celebration of Life will be announced later. Those desiring may make contributions to the American Cancer Society in her honor.
Marcia was born in Flint, Michigan on March 20, 1955, the daughter of the late Raymond and Elizabeth (Brownell) Bissonnette. She was joined in marriage to her best friend Michael Burns on June 22, 1991, and enjoyed 32 years of unconditional love and support.
Together they enjoyed road trips, always taking the "scenic" route, never the freeway. She loved to try new hobbies and crafts, restaurants, and bakeries and had a shoe collection that was the envy of most. Marcia was a stranger to no one. No matter where she went, she always left with a new friend. She fought a battle no one should have to endure and did it with grace and dignity until the bitter end. Thank you for fighting so hard for your beloved family, "we love you the mostest".
Marcia is survived by her husband Mike and her daughters; Amy and her husband Ken Slinker and Krista Klas and her significant other Dan Billings. She also leaves behind her precious grandson Logan Witthuhn. Surviving siblings: Ron Bissonnette, Diane DuCharme, and Brian Bissonnette as well as several nieces and nephews.
The family would like to express their sincere gratitude to Dr. Christopher Szyarto and the team at Genesys Hurley Cancer Institute, Dr. James Walker II and his team, and a host of compassionate healthcare providers who provided such great care. We love you all.
Marcia's obituary was written by her loving family.
Let the family know you care by sharing this tribute.