Mara Lee "Mimi" (Kiernan) Chapie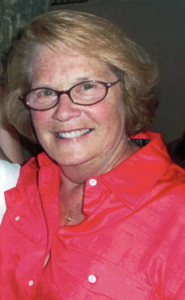 Age 79, died peacefully on May 13, 2023 after a long 10 year courageous battle with Alzheimer's dementia. She was born on September 27, 1943, the daughter of Mr. and Mrs. Leo and Frances (Mara) Kiernan.  Raised in Port Huron, her childhood was full of family, friends, and fun where she attended and graduated from St. Stephen High School.  Mimi met her best friend and beloved husband, Matthew in Port Huron via a blind date and soon thereafter were married in 1964.  They built a beautiful life together in Detroit, St. Clair Shores, Sterling Heights, and Grand Blanc, Michigan.
Mimi was an energetic, attentive, and loving woman.  Her biggest accomplishment in life was being hand in hand with her husband and raising their 3 children.  Mimi worked full time for nearly 30 years as a Medical Office Manager while raising her family.  She loved being in the stands at the baseball fields, ice arena, or court-side watching all of her son's games.  Dedicated, supportive, and always present.  Mimi was so proud of her children and was proudest when each of them married.  She loved each of their spouses endlessly. 
Mimi's biggest joys in life were her five grandchildren and one great grandson.  Never saying no to a sleepover, Mimi grew to love each of her grandchildren individually, creating unique special bonds with each of them.  She loved to attend and support all their activities near and far.
Mimi will be remembered for her kindness and generosity, fun-loving personality, lifelong friendships, and her warm, beautiful Irish smile! She was preceded in death by her mother Frances, father Leo, step father Lou Muldoon, brother Mickey Kiernan, sister Kathleen Kiernan, and brother-in-law Bud Green.  She is survived by her husband, Matt; her children, Greg (Rebecca) Chapie, Kevin Chapie, and Jeff (Jillian) Chapie; her grandchildren, Ryan Chapie, Alex(Derek) Susalla, Morgan Chapie, Cassidy Chapie, and Savannah Chapie; great grandchild Bodhi Chapie, sister Patricia (Kiernan) Green, and many cherished cousins and friends.
A Funeral Mass will be held at 11:00 a.m. on Monday, May 22, 2023 at Holy Redeemer Church, 1227 E. Bristol Rd., Burton, Michigan 48259,  with visitation beginning at 10:00 a.m.  Expressions of sympathy may be shared with the family on Mimi's Tribute Wall at detroitcremationsociety.com.
In lieu of flowers, the family requests that memorial donations be made to Holy Redeemer Outreach .
Mimi's obituary was written by her loving family.
Let the family know you care by sharing this tribute.