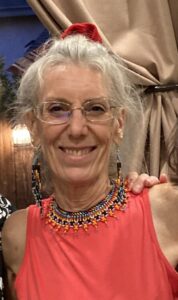 Age 68 from Flint Michigan passed away on November 6, 2023 after a multi-year fight with cancer. In accordance with her wishes, she was cremated. Expressions of sympathy may be shared with the family on Lori's Tribute Wall at detroitcremationsociety.com.
Lori was born on May 28, 1955 in St. Marys, Pennsylvania, the daughter of Mr. and Mrs. Harry and Valery (Graves) Wolf. She was an exceptional student, graduating from Ridgway Area High School. She earned a Bachelor's degree in Philosophy at Edinboro University, PA, entering the program early after skipping her senior year of high school. She went on to earn her Masters Degree in Herbology.
Lori worked her entire life in the naturalistic food industry, consulting on the use of herbs and other natural products. Her expertise was sought out by customers at a variety of health food stores in PA and later across southern Michigan. The Native American culture and their traditions were also very precious to Lori, and so were the many friends she made through her experiences within multiple countries. She was an accomplished dancer within the Lakota traditions, earning the honor of Sundancer.
Lori is survived by her sisters, Lynn Scalise of Brentwood, CA and Malia Wold of Pleasant Hill, CA.
Let the family know you care by sharing this tribute.