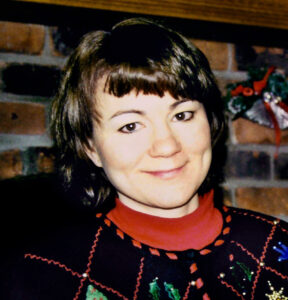 Age 55, died Sunday, March 6th, 2022 at Suncrest Assisted Living in Novi, MI. In accordance with Kristine's wishes cremation has taken place. A Celebration of Life for Kristine will be announced soon. Condolences may be shared with the family by visiting Kristine's tribute page at detroitcremationsociety.com.
Kristine was born May 14, 1966 in Bay City, Michigan. The daughter of Mr. Joseph Walsh and Ms. Patricia Marx (Byrne). Raised and educated locally, Kristine graduated from Bay City Handy with the Class of 1984. She went on to continue her education, graduating from Michigan State University in 1989 and earning her Master's Degree in Finance from DePaul in 1995.
She was known as a very hard worker with keen attention to detail. Kristine met Brian McGrath while they both attended MSU. They fell in love and married on September 18, 1993. The union blessed them with three boys.
Kristine was very involved with her children throughout school and all the activities they were involved in. As a family they often attended Michigan State University football and basketball games, as Kristine was a huge fan. Kristine was also an animal lover, having dogs and cats growing up and they continued to be a big part of the family. She was so happy to introduce "Duke", her beloved golden retriever to her children. In her final years, her faithful dog Deja stood watch and helped care for her. In her spare time Kristine enjoyed spending time with friends, attending shows, taking walks, working out and tending to her garden. Most of all Kristine loved her family and she will be missed by all those who met her.
Left to cherish her memory is her loving husband Brian McGrath; along with their three children: Travis, Brendan and Brian. She is also survived by her brother Scott Walsh and mother Patricia and Ron Marx. Kristine also loved her extended family, including: Jim and Mary McGrath; Maureen and Ron Pasco; Jim and Diana McGrath; Julie and Rick McCoy; along with nieces and nephews: Janelle, Colleen, Gabrielle, Christopher, Lauren, and Aden. She also had lots of close friends, including Cherri, Tracy, Cheryl, Shauna, Lori, Krista and many more.
Kristine was preceded in death by her father, Joseph Walsh, who passed away in 2016.
In lieu of flowers, donations may be directed to the Alzheimer's Association, your favorite animal shelter or charity in Kris' name is preferred.
Kristine's obituary was lovingly written by her family.
Let the family know you care by sharing this tribute.