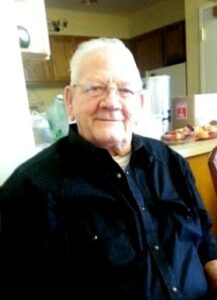 It is with great sadness to announce the passing of our beloved father, Kenneth D. Nielsen Sr., on Tuesday, February 1, 2022. He was 18 days away from his 87th birthday. He passed peacefully at his residence surrounded by his family.
He was born to Niels Peter and Rachel Ann Minerva (Perry) Nielsen on February 19, 1935, in Sault Ste Marie, Michigan. He was the last of a generation of greatness and the original Nielsen family is complete in heaven. He was an Army Veteran and was drafted in 1958 into the United States Army. He was a masonry craftsman for over 50 years. He belonged to the Bricklayers & Allied Craftworkers Local #9. He also belonged to the International Union of Bricklayers and Allied Craftworkers. He was an avid sportsman and loved to hunt, fish, play golf, and watch football. He loved singing and karaoke. He was loved by everyone and brought his charm, humor, and antics to anyone in his presence.
He married Mary Ann (Cromwell) Nielsen on June 3, 1961. They spent over 60 years loving their little family together and bore five children. He is survived by his wife, Mary Ann Nielsen; four children, Kenneth (Kum Sun) Nielsen, Jr.; of Colorado Springs, CO; Daniel (Sandy) Nielsen of Vassar MI; Randy (Lynette) Nielsen of Omaha, NE; and Kadie (Nick) Keane of Corpus Christi, TX. He has 12 grandchildren and 23 great-grandchildren.
He is preceded in death by his father, Niels Peter Nielsen; his mother, Rachel Ann Minerva (Perry) Nielsen; brothers, Farrell (Etta) Nielsen, Rodney (Corrine) Nielsen, Robert (Beverly) Nielsen; and sisters; Ruby (Bill) Easter, Shirley (Ed) Benoit, Lulabelle (Ralph) McConnell, Patsy (Harry) Johns, Audrey (Peter) Goetz. He was also preceded in death by his baby boy son, Douglas; and step-daughter, Debra Jane Cromwell.
He wished to be cremated and the Detroit Cremation Society has handled his wishes. There will be a tribute page for him as well at detroitcremationsociety.com. No formal services will be held. However, we will plan a tribute to him by meeting anyone interested at a place that hosts Karaoke for singing to honor his memory. He was an integral part of our family serving as the patriarch of our family and is deeply loved and missed.
Our family would also like to thank the hospice nurses and nurse aides of Compassus for taking such great care of our dad during his last two months. We are very grateful.
Kenneth's obituary was lovingly written by his family.
Let the family know you care by sharing this tribute.