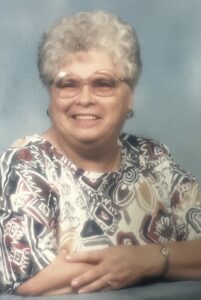 Age 85, of Flint, passed away on May 25, 2023. In accordance with her wishes, cremation has taken place. Expressions of sympathy may be shared with the family on Kathryn's Tribute Wall at (detroitcremationsociety.com).
Ms. Minton's celebration of life/memorial ceremony is to take place Sunday, June 25th, 2023 from 2pm-6pm at the Iron Worker's Union Hall (3115 Joyce Street Burton, MI 48529). Dinner and dessert will be served as the family is welcoming anyone who was influenced by Kathryn's light. Flowers and cards of sympathy will also be greatly appreciated.
Kathryn Virginia Minton was born on October 13, 1937, in Flint, Michigan, the daughter of Mr. and Mrs. Floyd and Lucy (Wilson) Tupper. Kathryn was a renowned homemaker who cared deeply for her family and neighbors alike. She lived in her home on the Northside of Flint for the last 65 years and was commonly referred to as "Gg". Her home was a safe space for genuine fellowship as her pantry was always stocked with snacks and goodies. She provided not out of obligation, but simply because of her giving spirit and loving heart. Adults and kids alike will forever cherish her as she always ensured whoever crossed her threshold was safe, healthy, and happy.
Kathryn is survived by her daughter; Rhonda (Daniel) Glass, sons; Randy and Roger Minton, granddaughters; Megan Cronkright and Josie Gates, great granddaughters; Markala, Mariah, Marionna Hussey, and Adreena Batsios, and great great grandson; Jacsyn James.
Kathryn is preceded in death by her parents;   Floyd and Lucy Tupper, siblings; Norman Tupper and Nancy Harden.
Kathryn's Obituary was written by her loving family.
Let the family know you care by sharing this tribute.