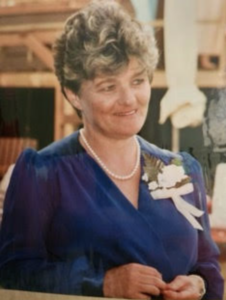 Age 82, Judy Barnhart of Waterford passed away on March 18, 2023. To honor her wishes, cremation has taken place. Expressions of sympathy may be shared with the family on Judith's Tribute Wall at detroitcremationsociety.com.
A remarkable woman, born in the heart of Detroit on November 6, 1940, Judith Dolores Barnhart leaves a legacy filled with love, perseverance, and unwavering dedication to her family. Daughter of Cleo "Ike" and Julia (Gideon) Gray, as the 3rd of six siblings, family always took center stage in Judith's life.
Endlessly supportive of her family throughout her life with hard work and love. Her humble beginnings found her walking daily to clean houses, demonstrating her determination to create a better life for her loved ones.
In a twist of fate, Judith had an opportunity for an entry-level position at Henry Ford Hospital. With renewed confidence, she returned to school in the evenings while working full-time, balancing single motherhood to reshape her destiny. Her steadfast efforts earned her retirement after 25 years of service at the hospital, working in dermatology and allergy.
When she wasn't working, she enjoyed shopping, dining out, and finding the best bakeries in Michigan. Judy loved the theatre and shared this passion with her grandchildren. As a young lady, she volunteered as an usher at Fisher Theatre Detroit, which came with the benefit of watching performances. 
She took pride in creating a cozy home for her family. Judy believed in "romancing the ordinary" by adding little touches to make everyday life feel special, whether adding fresh flowers, candles, or candies, creating an adorable bow for a gift to make it feel extra special or her perfectly folded linens in closets that smelled like a soft meadow.
She enjoyed all four seasons in Michigan. In the summertime, she loved strolling through local art and craft shows; springtime always included spring bloom shopping, and in fall, she always took time to enjoy and point out the trees bursting with colors, but Christmas was by far her favorite time of year.
Judy was a fiercely authentic, warm-hearted woman who wore her wit and integrity like a badge of honor. She helped others whenever she could and offered help to others in humble silence, never looking for a medal of honor or public bragging points. 
Judy was notorious for doing little acts of kindness, like sending cards as a "secret pal" to help brighten other people's day and countless holiday cards for grandkids and children in her extended family. She wanted others to feel remembered and loved. 
Throughout her life, she was an avid reader and movie enthusiast. As her sight declined, she enjoyed puzzles, watching cowboy flicks, and unraveling murder mysteries like The Orient Express. 
She always tried to keep her independence and strength to hold herself up and help the people around her.
She was a lady with much wisdom about the world and people. She often said: "If you want something, you can have it; you just have to go out there and work for it!" 
Judy maintained a relationship with Jesus Christ throughout her life. She lovingly reminded her family of the intimate bond with God and the importance of prayer for everyday life, not just with her words but with her actions. 
Spending quality time with friends and family was something she treasured closely.
Throughout her life, she was a beacon of truth, love, and support for her family.
Judith is survived by her sister, Nadine Escobedo (Pete); sons, Douglas Brady, Gordon Brady, and Patrick Brady; daughters, Colleen Ontko and Elizabeth Marasco. Grandchildren, Darci Doyle, Samantha Mussen, Teddy Brady, Sullivan Brady, Guido Marasco, Antonio Marasco, Kalin Ontko, Gabe Ontko, Svetli Ontko. Great-grandchildren, Audry Stiller, Carter Doyle, Caroline Doyle, Marleigh Mussen, and Brady Mussen.
Judith is preceded in death by her Mother, Julia Gray; Father, Cleo Gray; Husband, Glenn Barnhart; Brothers, Tom Gray, and William Gray; Sisters, Pat Nelson, and Donna Gray; and Grandson, Joseph Brady.
Judy's obituary was written by her loving family.
Let the family know you care by sharing this tribute.