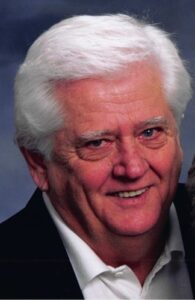 John Othel Foy, 82, of Grand Blanc, Michigan died on Friday, May 5th. John was born on September 6th 1940 to Annie Hester (Jenkins) and John Othel Foy in Winston-Salem, North Carolina.
John moved with his family to the Flint area when he was 13 and eventually met his wife of nearly 57 years, Elizabeth.
Survived by wife Elizabeth; brother Brad (Sharon) Foy; children David Foy, Jeff (Linda) Foy, Lori (John) Peterson, Kevin (Ludwig) Foy, and Kelli (Scott) Powell; grandchildren Alex, Nate, Lexi, Taya, Katey, JJ, Penny, Tiffany, Sophia, Sarah, Robert, and Aden; and many nieces, nephews, and great grandchild Laylyn.
A celebration of life will be held on Thursday, May 11th at the American Legion, 375 E. Grand Blanc Road, Grand Blanc from 5pm to 9pm.
John was a charismatic character and local business owner who helped many lower income members of the community by providing affordable cars to those who couldn't get financing from anyone else. John was generous to a fault and loved by many. In lieu of flowers, donations can be sent to the Alzheimer's Foundation of America.
John's obituary was written by his loving family.
Let the family know you care by sharing this tribute.