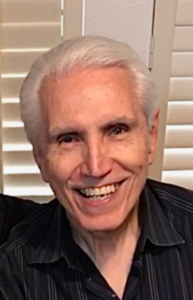 Milford, MI – John Douglas Beach, 79.
"A great soul serves everyone all the time. A great soul never dies. It brings us together again and again." Maya Angelou
Our brother, father, grandfather, and friend John Douglas Beach certainly left a myriad of fun memories on each of our hearts. He mastered the art of "dad" jokes and had a few favorites he shared often.
He left this earthly existence on October 1st, 2022 quietly and without a peep or warning to those he loved. It seemed appropriate that this gentle and quiet man did not want to leave with any fanfare or commotion. In his death, he appeared peaceful and serene which was a great comfort to family members.
John's greatest love in life was his beautiful wife of 54 years, Rochelle! Their love story was a fairy tale of devotion, trials, friendship, and adventure. His family will lovingly remember Rochelle yelling, "John" from another room. This happened multiple times per day. There was rarely a time he did not answer to see what his sweetheart needed from him. Everyone that knew him best, understood that Rochelle was his girl and great love. We take great comfort in imagining their grand reunion, and that there was a loud exclamation of "John!" from our mother calling him home. He always honored her call and wouldn't have wanted it any other way.
John and Rochelle lovingly brought four daughters into the world and enjoyed seeing their family grow with each marriage and birth. Christy Beach of Seattle, Washington; Amy (Joe) Richardson of Milford, MI; Tracy (Anthony) Bonadio of Brighton, MI; and Emily (Ethan) Despain of Meridian, Idaho. Then came eleven Grandchildren and one Great grandchild: Hannah (Josh) Golden, Harrison Golden and Sterling Tull. Gabe, Grace, Lilly, and Claire Richardson. Vincent, Enzo, and Eliza Bonadio. Silas and Samara Despain.
John is the second to the youngest brother and is survived by his siblings Fred Beach and Darlene Niederstadt. He was born on October 24,1942 in White Cloud, Michigan to William Beach (Deceased) and Hazel (Swanson) Beach (Deceased). He lived a full life and had fond memories of working at his family's Dairy Isle where he cultivated a deep love for vanilla ice cream. He always said that "there was always room for ice cream and that it filled in the cracks." His daughter's recall that he rarely passed up a Dairy Queen. He spent his youth playing basketball and football. And took after his dad, loving all things sports.
John had a deep love and devotion for Jesus Christ and his membership in The Church of Jesus Christ of Latter-Day Saints. He served a mission in California. He loved serving in various assignments in the church, and his favorite way to spend his time was his weekly service in the LDS temple. He enjoyed playing basketball in church and supporting his wife in various youth church classes that they developed and taught.
John served in the Army as a Lieutenant during the Vietnam Era from June 1966-April 1969. He often shared several core stories about his experience there, including being poisoned by the opposition. He was awarded the following: The National Defense Service Medal, Vietnam Gallantry Cross, National Defense Service Medal, Vietnam Service Medal, Vietnam Campaign Medal, Combat Infantryman Badge, Bronze Star Medal Two Overseas Service Bars, Bronze Star Medal with "V".
John attended and graduated from Palmer College of Chiropractic in Davenport, Iowa with a degree in Doctor of Chiropractic. He practiced as a Chiropractor in Private Practice for 20 years. He was a talented healer and was passionate about natural approaches to the body healing. Not a man of many words, when John spoke, people listened. His warm approach and care left an indelible impression on many. He was also a skilled craftsman, and helped run a family Cinna-Minnie business which was the brainchild of Rochelle.
His family have fond memories of their father and grandfather making the best popcorn every Sunday night. He also specialized in the most delectable whole wheat pancakes that just melted in your mouth. He was also an avid Sports Enthusiast and could be found watching or listening to baseball, basketball, football and golf. In the last years of his life he also found an interest in romantic Hallmark movies. When his family asked why he was indulging in them, he explained that it reminded him of the deep love he shared with Rochelle. She was his best friend and love of his life. He made sure that everyone knew it!
John will be deeply missed by those that knew and loved him. Although we mourn the death of his physical presence in our lives, we celebrate the knowledge that his spirit lives on. He is reunited with so many loved ones on the other side including his "best girl." We have no doubt that he is listening to Rochelle intently with that sweet smile on his face that represents a thousand words that he will never say, and evokes a sense of peace and warmth. His family hopes he gets a tv on the other side so he does not miss out on his favorite teams. His favorite teams to root for were the underdogs which represents his gentle and caring heart.
We are so grateful for the love, support, and kind messages from so many. It brings great comfort and peace to us all.
Memorial services to celebrate John's life will be held on
Saturday, October 8, 2022 (11:00am) at The Church of Jesus Christ of Latter-day Saints, 33900 West 13 Mile Road, Farmington Hills, Michigan 48331. A private burial at Great Lakes National Cemetery will be at a later date. The family will receive attendees right after the Memorial Service at the church in the gym area.
Donations in lieu of flowers can be made in memory of John to Tunnel to Towers Foundation. Your donation and dedication can be made: Online: T2T.org While making your donation, check the box to "dedicate my donation in honor or in memory of someone." — with John Beach.
John's obituary was written by his loving family.
Let the family know you care by sharing this tribute.