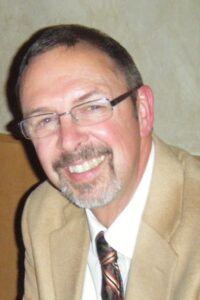 Age 67 passed away at his residence in Flint, Michigan after a two-year battle with Glioblastoma. To honor his wishes, cremation has taken place. Family and friends are invited to attend a Burial Service at 12:00 noon on Saturday, November 20th at Flint Memorial Park's Mausoleum in Mt. Morris. A private family gathering will be held later. Expressions of sympathy may be shared with the family on Joe's Tribute Wall at detroitcremationsociety.com.
Joe was born the youngest of three children in the great state of North Carolina to the late Jiles Bryce and Margaret Ellen Doby Cooper. He was a 1972 graduate of Elisabeth Ann Johnson High School in Mt. Morris where he made many friends and excelled at Cross Country. Joe chose a career as a Sheet Metal Tinsmith and was a proud member of the Sheet Metal Workers Local Union #7 Zone 4. As a Tin-Knocker and Handyman, he was a perfectionist in everything he did. After retirement, he established employment with Leisure Days RV in Clio where he began as an RV Technician. Within a year he was promoted to sales where Joe's personality, experience and knowledge enabled him to shine as an easy-going, thoughtful & professional salesperson. Those who purchased an RV from him always left as a friend.
Joe was a very kind man by nature and lent a hand to anyone in need near home or camp. He was loved by many for his gentle and "funny guy" nature, many times saying "Behave yourself" to departing friends knowing full well it would make them chuckle. He will be profoundly missed.
Joe B. is survived by his beloved wife, Veronica "Ronnie" of 42 years; daughter, Laura Rachel & son-in-law, Anthony Kupres; three of the absolute best grandchildren ever: Gary Bryce, Caleb Wayne, and Giavanna Victoria Kupres; sister, Marilyn Corrine Cooper; brother, Henry Van Cooper; nephew, Thomas Tolliver (Marcia); niece, Nikki Cooper (Cody); mother-in-law, Rachel Sorbello, and a lifetime of special friends. Love and gratefulness to Henry and Marilyn Cooper and Sue Remley for their time in caretaking; Special thanks and timeless gratitude to Bill Remley for his months of perseverance and love in caretaking of Joe; May God Bless You. Gratitude to Residential Home Health Care & Hospice for their compassion and care.
Friends may share a memory with the family at the cemetery or online at detroitcremationsociety.com.
Let the family know you care by sharing this tribute.