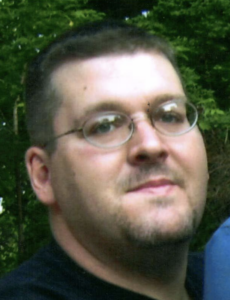 On Saturday, January 21, 2023, Jason M. Shock, caring husband and loving father of three, passed away suddenly at age 49. A highly skilled professional craftsman, Jason spent nearly 30 years as a journeyman tile setter, both for BAC Local #32 in Detroit Michigan, and as a self-employed contractor.  He was best known for his quick, sharp wit, intelligence (he could spell anything quickly, and had many fun facts to share in any conversation), and his huge, often sarcastic, sense of humor. His proudest role during his life was as a father, not only to his own kids, but he also earned the unofficial honor of, "neighborhood dad". Those who knew him often say, Jason was a big, strong man, with an even bigger, softer, heart. Jason also recently achieved 16 years of sobriety. He attended CenterPoint Church, and appreciated guidance from Pastor, Bruce Garner.
Jason loved sports (he was an accomplished football player and wrestler at Kearsley High School, and he helped coach and guide his kids in their sporting activities including soccer, basketball, and football). Jason was a phenomenal cook, and he could build or repair anything, and enjoyed working on home improvement projects. He also loved music (notably Ozzy Osbourne and Metallica). Jason met his future wife Heidi Ann Long while they were both attending Kearsley High School. Jason graduated in 1991, and he shared with Heidi he used to sneak into school choir concerts to watch her sing. However, it was not until they connected in the mid 90s while Heidi was out with friends that they started dating. The pair wed in 2002, and had three amazing, smart and independent children together: Jackson Dean, Zachary Mitchell, and Lillian Grace.
Jason is survived by his wife, and children; sister, Jennifer Shock, and her wife, Christie Hoenicke; brother-in-law, David Long; sister-in-law, Holly Boven, and nieces, Brieanna Brockmon (Andrew), Alyssa Boven, and Teaghan Boven; and mother-in-law, Carol Long, his beloved constant companions; bassetts Monte, and Rosie, and his cat Belvedere, and many beloved aunts, uncles, cousins, along with his honorary son; Gavin Sproule.
Jason was preceded in death by his mother, Janie Shock-Younger, stepdad, Donald B. Younger, granddad, Max Shock, and grandmother, Jennett "Bama" Shock; brother-in-law, Mitchell Long.
The family will be receiving friends from 2:00 p.m. until the time of the  Memorial Service at 3:00 p.m. Friday, January 27, 2023, in the Sanctuary at CenterPoint Church located at 1225 S. Center Rd. Burton, Michigan, (light refreshments to follow). In lieu of giving flowers, the family asks those who are able to make a donation to CenterPoint Church or to the Kearlsey Band Boosters, where Jason had recently began his journey as a "Band Mom".
Jason's obituary was written by Perashina La LaMotte.
Let the family know you care by sharing this tribute.