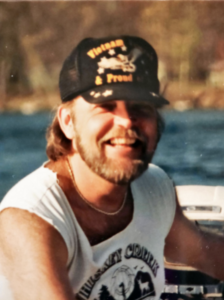 Age 72, of Perry Mi, died at home surrounded by his family on Friday morning July 7, 2023. In accordance with his wishes, cremation has taken place. Expressions of sympathy may be shared with the family on James' Tribute Wall at detroitcremationsociety.com.
James Lee Cox was born on December 25, 1950,  the son of Mr. and Mrs. Lester and Marcella (Welch) Cox. James graduated from Perry highschool where he made many life long friends. He served in the U.S. Army during the Vietnam War. After his return James worked at General motors for over 30 years where he retired. He was a husband, father, uncle, grandfather and soon to be great grandfather. He was a proud man and he looked after us all. James loved the outdoors and was an avid hunter and fisherman! He shared that passion with his family and friends passing on his knowledge and leaving us with many great memories.
James is survived by his beloved wife Fran Cox, and two children James and Shelly (Siminski) Cox, Dale and Tawnya (Cox) Greenhoe. Three grandchildren. Allison, Logan Warfle and Jared Warfle, as well as two nieces and two nephews.
James is preceded in death by his parents Lester and Marcella (Welch) Cox and his two siblings. Sister Connie (Cox) Diamond, Nephew Denny Diamond and brother Kenneth Cox of Perry.
A graveside service is being held at Roselawn cemetery in Perry MI. Sunday July 23,2023 at 3pm. The family will have a dinner to follow at VFW in Perry. All friends and family are invited to attend.
James' obituary was written by his loving family.
Let the family know you care by sharing this tribute.