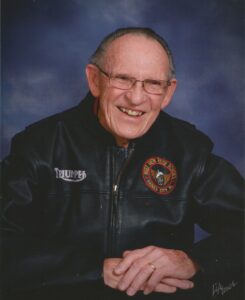 Age 83, of Flushing, died Sunday, September 8, 2019, at his residence. In accordance with James' wishes, cremation has taken place. A celebration of life will take place from 4:00 pm until 7:00 pm at the Clio VFW Post #1452, 10380 N. Saginaw Rd. Clio, MI, 48420. Those desiring may direct memorial contributions to a charity of your choice.
James was born November 10, 1935, in Flint, the son of Mr. and Mrs. Erwin Arthur Eddy. Educated locally, he attended the Otter Lake School district. Upon completing his education, he went on to work for General Motors for ten years. James went on to work as a Rod Buster, retiring from Ironworkers local # 25, and # 426. His retirement allowed him more time to do the things he loved; being with his family, enjoying his Breakfast Club buddies, and restoring classic cars and motorcycles. James loved motorcycles. He was one of the founding members of the Flint Motorcycle Club.
While he had many professional accomplishments, it was his family that he was the proudest of. On December 1, 1956, in Millington, James would marry Marie Hazel Green, known as "Chicky." Their union bore six beautiful children. James was known as "Pa" within the community. He was a man full of life and was known as the life of the party. It was his heart and kindness that he will be remembered for. James found the time not only to care for his own family but to extend himself to others in need. He will be deeply missed by all whom his life touched.
Left to cherish his memory are his children: Jim and wife, Colleen Eddy, Janice and husband, Bill Crane, Joe and wife, Margaret Eddy, Joanie and husband, Jim Schaefer, Judi and husband, Pat Haggerty, and Julie Eddy; grandchildren: James and wife, Corrine, Janna and husband, Rob, Eric and wife Trina, William and wife, Jaren, Jonathan and wife, Meredith, Matthew and wife, Ashley, Lisa and significant other, Jake, Rick and significant other, Corey, Brent and wife Kellie, Nicole and husband Steven, Jared and wife, Tina, Josh and wife, Kellie, Adam and wife, Jenna, Jessica and husband, Lance, Bret, and Ian; great-grandchildren: Kristen, Hannah, Abigail, Tatum, Mya, Mallison, Ashton, Kylie, Connor, Tucker, Clare, Parker, Myles, Colton, Hudson, Aaden, Lucas, Hannah, Paige, and Brody.
He was preceded in death by his loving wife, Marie; his parents, Erwin and Ethel; step-father, Charlie Smelser; and his mother and father-in-law, Gordon and Hazel Green.
The family would like to extend a special thank you to McLaren Hospice, for their compassionate care of James during his illness.
Let the family know you care by sharing this tribute.