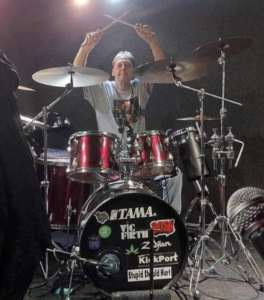 On Tuesday, November 7, 2023, James Orval Auten, 57, of Flint, Michigan, passed away peacefully at his residence.
Jim was born on February 3, 1966 to Orval and Martha Auten in Flint, Michigan. After Jim graduated with honors from Flint Central High School in 1984, he studied accounting and art in college. He had multiple jobs throughout his life, with journeyman tile laying being one of his favorites. He enjoyed creating mosaic tile designs. Jim had a passion for creating art in multiple mediums, his favorites being drawing and music. He had a special drawing displayed in Former Congressman, Dale Kildee's office for many years. Jim was musically gifted. He played several instruments with passion, his favorites being the
drums and electric guitar. Jim deeply cherished his family and friends. He was preceded in death by his parents, Martha and Orval Auten, brother Thomas (Carol) Adams, grandparents, many aunts, uncles, and friends.
He is survived by his brothers, Stuart (Brenda) Auten, William (Debbie) Auten, and sisters, Deborah (Daniel) Smith, Laurie (Steven) Turner, Lori Ann (Timothy) Sawyer, Karen (Daniel) Ogden and many nieces and nephews that he loved dearly.
Jim had many special friends that he loved and visited with often. He had a special place in his heart for three young children that he helped raise, Toni, Courtney, and Harold Wilson. Per Jim's wishes, cremation has taken place and the family plans to have a celebration of his life at a later date to be determined.
Let the family know you care by sharing this tribute.