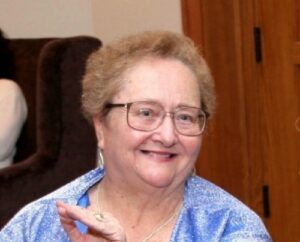 Irene Mary Adams (Makohon), 80, passed away at home in her sleep on Sunday, May 1, 2022 in Holly, MI. Irene was born in Drohobycz, Ukraine on September 8, 1941, the only child of Ivan and Theodora (Iwanczuk) Andruszczakewicz and later the adopted child of Osypa (Josephine) and Jurij (George) Makohon of Flint, MI. When Irene was 3, the small family fled Ukraine along with Josephine and George Makohon (Irene's aunt and uncle). Shortly after they entered Czechoslovakia in 1944, Irene's father Ivan was murdered along with dozens of others in a war crime. The family became part of millions of displaced persons across Europe. After the war ended, they lived in Rothenberg in the American sector of Germany where Irene attended early elementary school. Irene's Uncle George spoke many languages and was able to obtain a job with the UN Relief and Rehabilitation Administration (UNRRA). In 1949 the family left Germany. The Makohons immigrated into the US and settled in Flint, MI. Irene and her mother immigrated into Canada and took up residence in Toronto. Irene was orphaned at age 11 when her mother died. She was placed in an orphanage run by the Carmelite Nuns in Toronto. The Makohons tried to immediately adopt Irene and bring her to Flint but they were unable to do so because the quota was full. After nearly two years, with the help of their congressman, a special bill was passed and signed by President Eisenhower in 1953 to allow Irene to come to Flint and be adopted by the Makohons. Irene attended Sacred Heart School and belonged to St. Volodymyr Ukrainian Catholic Church in Flint. Irene met John at UM Flint and the two were married after graduation in 1965. In 1971, the couple moved into their home in Holly. Irene worked many years as a medical technologist at Hurley Medical Center in Flint. Irene was an excellent cook and enjoyed making traditional Ukrainian dishes. She loved flowers and made dried flower arrangements which she sold on EBay. Irene lived in Holly for over 50 years and owned many cats and dogs that she loved dearly. Most of all Irene loved being with her family, especially the grandchildren. Irene was preceded in death by her birth parents (Ivan and Theodora) and adoptive parents (George and Josephine). Irene leaves her husband of 57 years John D. Adams (Jack) of Holly, son Andrew J. Adams of Columbia, SC, daughter Anne A. Bliss (Tim), three grandchildren: Clark, Henry, and Claire Bliss of Petoskey, MI, and cousins Piotr Iwanczuk and Anna Himmel and family of Poland. Palliative care was provided at home through Residential Hospice. Cremation is being handled by Detroit Cremation Society of Grand Blanc. No service is planned. In lieu of flowers or donations, please consider contributing to one of the many organizations that support Ukraine in its war with Russia. Irene enjoyed living and raising her family in a beautiful, private country setting, spending extensive time gardening, and raising chickens. Irene was intelligent and creative, speaking many languages. She was outgoing, outspoken and loved striking up conversations with family and strangers alike. Most of all, Irene was extremely generous and a dedicated daughter, wife and mother to her children and grandchildren. She was known for hosting elaborate dinner parties, creating beautiful cakes and Ukrainian tortes for many family events – a true "foodie" before the term was coined. She will be truly missed.
Obituary was written by her loving family.
Let the family know you care by sharing this tribute.