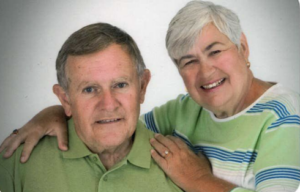 Age 79, of Grand Blanc, passed away on August 18, 2022. Family will be present to receive family and friends from 6:00 pm to 9:00 pm on Tuesday, August 23, 2022, at Detroit Cremation Society, 8253 S. Saginaw St. Grand Blanc, Michigan. A committal service to Great Lakes National Cemetery will take place at 10:30 am on Tuesday, August 30, 2022. In accordance with George's wishes, cremation will take place. Expressions of sympathy may be shared with the family on George's Tribute Wall at detroitcremationsociety.com.
George Leonard McKellar was born on July 30, 1943, in Flint, the son of Mr. and Mrs. Leonard and Thelma (Whitman) McKellar. George married the love of his life and beloved best friend, Floydine, on August 31, 1962. George lived a very active lifestyle, engaging in activities such as tubing and water skiing. He enjoyed spending his time with family and friends at his cottage. He also kept busy by coaching multiple different sports teams, becoming a mentor for all his team players. George was the founder of the Goodrich Wrestling Team, building it from the ground up. He took pride in his service with the United States Army, as well as caring for his closest loved ones. George was very family-oriented, ensuring that everyone he cared for was taken care of. He would give his loved ones the shirt off his back. This love would extend to more than just humans, as he was inseparable from his beloved dog, Joe.
Surviving George are his wife; Floydine McKellar, his daughter; Ayn McKellar, his son; Matthew McKellar, his two sisters; Carol and Beverly, his brother-in-law, and good-buddy, Ken Kingsland, his two sister-in-law's Judy Kingsland, and Harvetta Ward (Brian), his six grandchildren; Allison and Jacob Sokolowski, Brianna (Corey) McCarty, Conor Ward, and Alex and Emily McKellar, and his great-grandchild; Elijah, and several nieces and nephews. Also left to mourn his loss is a special son; John Paul Pierce, and many close friends; Doug and Tenia Wonch, Dick and Mary Parks, and Rick and Patty Quillen.
George was preceded in death by his mother and father; Leonard and Thelma, and his two brothers-in-law, Greg and Crist.
George's family requests, in lieu of flowers, donations may be considered to the Children's Miracle Network. His family would also like to extended a special thanks to Kindred Home Care and Hospice.
Let the family know you care by sharing this tribute.