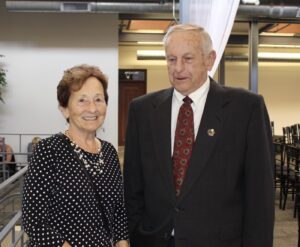 83, of Oscoda, Michigan passed away peacefully on September 9, 2021 following an illness with COVID Pneumonia. In accordance with his wishes, cremation has taken place. A private life celebration to be planned for a later date. Contributions may be considered to the Wounded Warrior Project or Make-A-Wish Foundation. Expressions of sympathy may be shared on George's tribute page.
George was born on September 23, 1937 in Pontiac, the son of Mr. and Mrs. Aurthur & Laurabelle Eaton. Educated locally, George graduated from Milford High School, with the Class of 1956. Upon graduation, George heeded the call to serve his county, enlisting in the United States Army, serving in the Korean War. Upon his honorable discharge, George also served in the Army Reserves. Upon returning to civilian life, George's career path led him to Miesel & Sons Company in 1960, where he began as a truck driver and eventually became a very successful sales representative including Salesman of the Year for 3 years straight. His territory included the entire state of Michigan and he proudly worked alongside his father for many of those years. George retired in 1988 after 28 years of employment. After retirement he went back to truck driving for a while, traveled, and worked as a Golf Ranger in Oscoda, Michigan.
George will be remembered for his love of boating, golfing, making caramel popcorn, and his yearly trip to Florida with the love of his life, Peg. He was also very proud of his involvement and in the development of the baseball park in Fenton, and his many years of coaching his son in baseball.
George is survived by his daughters; Kim Fous (Tom), Tracy Wurster (Scott Adams), and son; Greg Eaton (Deb), as well as his loving friend & fiancé; Peg Little who has been by his side for 17+ years. He loved each and every time he saw his grandchildren; Ansley Smith (Fous), Allie Fowler (Eaton), Leah Wurster, Thomas Wurster, and Maxwell Eaton; and great grandchildren; Adelaide Smith, and Eloise Smith. George was able to celebrate with all his grandchildren back in mid-August while attending the wedding of his granddaughter Allie to Zach.
In lieu of flowers donations may be made to the Army – Wounded Warrior Project or Make-A-Wish.
Let the family know you care by sharing this tribute.