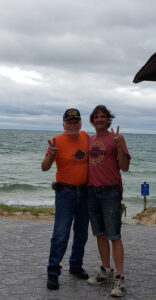 Age 64, of Oxford, passed away on August 24, 2022. To honor his wishes, cremation has taken place. A committal service will be held at Great Lakes National Cemetery, and will take place at 10:30 am on Thursday, September 15, 2022. Expressions of sympathy may be shared with the family on Gene's Tribute Wall at detroitcremationsociety.com.
Gene Dewayne Flint was born on June 22, 1958, in Flint, the son of Ralph Flint and Joyce Harburn. Gene had served in the United States Army. He was very proud of the work he achieved within the military, wishing he could further his career within the Army. He was a member of the 82nd Airborne Division, based out of Fort Bragg in North Carolina. He was known for his work as a Tow/Dragon Repairer and Parachutist. He also was well known for his handy skills, remodeling homes at a very early age. The work he completed in remodeling was impeccable, leaving many happy and satisfied. He was capable of fixing everything, and always maintained confidence in his work if he felt he could not fix something. Gene was a very weary soul, always fascinated with traveling and exploring the wonders of the world. He would remember his trips by collecting rocks on all of his journeys, weighing down his pockets with his collection. Gene was always interested in ideas of other-worldly beings, believing in the unknown. Gene will be missed by many for eternity. He will get to enjoy one more parachute trip, one in which a parachute is not required.
Surviving Gene is his three children; Jacob D. Goode, Dannielle R. Flint, and Jodi Flint, his two sisters; Debra Greenlee and Dawn Thayer, his brother-in-law; Gerald Thayer, his niece; Emily Golwitzer, and five grandchildren. He also leaves to mourn his loss, many close friends; Marie and Jerry Church, Liz Ryan, and Terry Smith.
Gene was preceded in death by his parents; Ralph Flint and Joyce Harburn, his brother; James Flint, and a very close friend; Jerry Church.
Gene will be sadly missed for eternity. Fly high my brother "no parachute required"
Let the family know you care by sharing this tribute.