Gary Joseph Daniel Gingras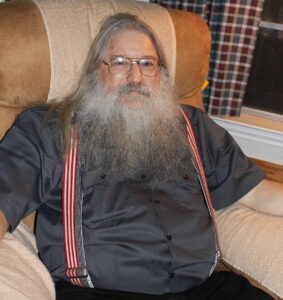 Age 66, of Grand Blanc, passed away peacefully on October 15, 2022. To honor his wishes, cremation has taken place. In Lieu of flowers, the family asks for donations to be made to Common Ground at https://commongroundhelps.org/donate/. Expressions of sympathy may be shared with the family on Gary's Tribute Wall at detroitcremationsociety.com.
Gary Joseph Daniel Gingras was born on November 4, 1955, in Royal Oak, Michigan, the son of Mr. and Mrs. Joseph Louis and Helen Marie (Sefcovic) Gingras. He earned his Master's Degree of Architecture from University of Michigan. He retired in early 2010's from Michigan Public School Systems, having taught at Lakeview High School in St. Clair Shores for close to 20 years. As a student and a teacher, Gary was always learning, researching, teaching, and coaching. He shared his knowledge abundantly, and with much enthusiasm, to the appreciation of all.
Gary enjoyed his passions for genealogy, music, and spending time with family, often traveling great distances to share time with loved ones. He spent many evenings and weekends attending the activities of his extended family. Gary loved to watch the sports, concerts, plays, attend family outings, and other events in which his family participated. He regularly traveled to attend weddings, reunions, birthday parties, etc. held by any of his family and extended family. Nothing was too far away for Gary. It was here that he often shared his love of genealogy. Many visits included a Pedigree Chart for the guest(s) of honor, and an afternoon filled with family history conversations.
Gary loved music, and had an extensive collection, covering many genres. He always had CD's burned with some of his favorites to take on his travels, and to listen at home. He became a talented percussionist, and loved expanding his percussion instrument collection, both standard and eclectic. Gary authored many of the lyrics for his musical collaborations, as well as a self-published book of poetry.
Gary shared his talents and love extensively. He was a Santa Claus, and attended family gatherings, as well as community events to spread Christmas joy. Gary was a strong advocate for Alcoholics Anonymous and Suicide Prevention, and gave much of his attention to the causes. He was known to regularly post encouraging messages on Facebook, as well as Suicide Prevention Tips and phone numbers. Gary self-titled himself on Facebook as an RBU — Ridiculously Biased Uncle — and kept current with all he knew on Facebook. He was always thoughtful and informed, and respected all for their own views, whether he agreed with posts or not!
Gary was a single man, without his own children, but he was surrounded by the richest love from his extended family. Among that 'family' are the many colleagues and former students from his teaching career. Several of his endeavors involved participating in their lives, and enjoying their successes.
Surviving Gary are siblings Phillip (Joan) in Georgetown Texas, Douglas (Linda) in Grand Blanc, Cecilia (Thomas) in Waterford, Joseph (Donna) in Hanover, Theresa (Louis) in Arcadia Florida, and brother-in-law William (Lynne) in Harper Woods. Gary's extended family includes 14 nieces/nephews, and 18 grand-nieces/nephews, as well as a multitude of cousins, their families, and other extended relatives. As a genealogy expert, Gary knew his family, and shared his love and talents with as many as possible. Gary was preceded in death by his parents, siblings Christine and Stephen, three nieces, one nephew-in-law, and one grand-nephew.
In life, we are all different things to different people. When we go, there will be different kinds of stories from the people in our lives. Not Gary Gingras; he was the same to all of us. If he was your son, brother, uncle, cousin, or friend, we all got Gary. We love you Gary Zangrau.
A Memorial Service to honor Gary will be scheduled at a later date.
Gary's obituary was written by his loving family.
Let the family know you care by sharing this tribute.