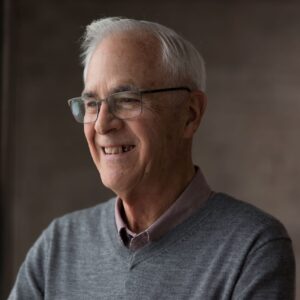 Gail Heathcock Hurst, 84, of Grand Blanc, Michigan, beloved husband, father, and grandfather, passed away on September 3, 2023 surrounded by family. In accordance with his wishes, cremation has taken place. Expressions of sympathy may be shared with the family on Gail's Tribute Wall at detroitcremationsociety.com.
Gail was born on May 20, 1939 in Camden, New Jersey, and grew up mostly in Moorestown NJ. He is the son of Dee and Ruth (Heathcock) Hurst.He is survived by his wife of almost 55 years, Ruth (Porter), and their two sons, David James (wife, Julie) and Derrick Heathcock (partner, Adele), as well as two grand-daughters, Shilo (Presley Liell) and Bernetta (Kat Liell). He is also survived by his twin brother, Wilbur Scott Hurst
He is a proud graduate of Albion College (class of '61) and received his PhD from UCLA in toxicology.  He taught for 2 years at California Lutheran College in Thousand Oaks, CA. He decided to pursue research and did postdoctoral research at Northwestern University, then worked for 2 years for Alza Corp. before going to another post doc at the  University of Florida, in the field of Biochemistry and Pharmacokinetics. He was a gifted research scientist working in the field of pharmaceuticals for Dow Chemical and subsequent companies. One of his achievements was the development of the allergy drug Allegra. 
Gail loved being outdoors. Since birth, his family spent summers fishing, swimming and boating at the family cottage on Lake Gogebic in the upper peninsula of Michigan.  He ran cross country throughout high school and college, and enjoyed golf, sailing, and hiking later in life.  He instilled a love of the outdoors in his sons as they spent summers at Lake Gogebic, and camping or traveling throughout the US.
Gail studied metabolism and toxicology, and was awarded several patents throughout his career and was proud of his contributions to high profile medicines that treated everything from allergies, cancer to Parkinson's disease. He remained a proud member of the American Association for the Advancement of Science and American Chemical Society throughout his life. He loved to tell dinner table stories of electrons moving between atoms, how molecular structures could be manipulated, or how specific molecules can (or can't) get past the brain-blood barrier.  Most of his family didn't understand a majority of his stories, but that never slowed him down and his tales were filled with passion and his excitement was infectious!
Gail met and married Ruth while on a postdoc at Northwestern University. He took research roles in Lawrence, Kansas (where his son, David was born), then Gainesville, Florida (where his son, Derrick was born), and took a role in Midland, Michigan with Dow Chemical. That position took him to Indianapolis where he and Ruth spent 15 years raising their two sons. He moved with Dow to Kansas City where he retired. After retiring, he and Ruth moved to Altoona, Iowa and then spent his final years in Grand Blanc, Michigan, where he was again near his sons and grand-daughters. 
In addition to being outdoors and telling stories at the molecular level, Gail loved games. He would take breaks from working to shoot basketball or play ping pong with his brothers and later his sons.  He was a great cribbage and bridge card player and enjoyed playing both for as long as he was able. 
In the final stage of his life, Gail struggled with Alzheimer's disease.  Yet, despite the debilitating illness, he never lost the positivity and happy attitude that he embraced throughout his life. He continued to joke and tell stories until the last, even if we didn't fully know the story anymore.
Gail is preceded in death by his older brother, Charley Hurst, and parents, Dee and Ruth (Heathcock) Hurst. He was a beloved father, wonderful and charming husband, and will be missed by many.
Gail's obituary was written by his loving family.
Let the family know you care by sharing this tribute.