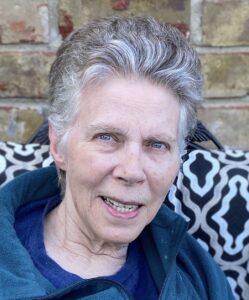 Age 79, of Grand Blanc, passed away Wednesday, September 23, 2020. In accordance with Gail's wishes, cremation has taken place. There are no further services scheduled at this time.
Gail was born on August 25, 1941, in Aruba, Netherlands Antilles, to Mr. and Mrs. Frank Clark and Naomi F. (Fitch) Donovan. Gail spent her youth between the East Coast and Aruba. She had fond memories of time spent on the Fitch family farm in Wilson, New York, where fruit was abundant. As a young lady, Gail spent much time at the barn with her horse, perfecting her English style riding. After graduating from Lago High School, she attended Katherine Gibbs College in Boston, MA as well as Centenary College for Women in Hackettstown, NJ, where she forged life-long friendships with her classmates. Gail was married after graduation and started a family in Atlanta, Georgia. Gail inherited her mother's artistic talent, and when she wasn't wrangling her three kids, she always had a craft project on the sidelines. When Gail's husband was transferred to New Jersey to work for General Motors, she started a position at Hoover Vacuums, which gave her the experience to move into her next position with General Motors in Michigan. Gail had a long career with General Motors and moved her way up from the dock, to logistics, to material management, and then training. When Gail started her career with GM, she knew she needed to earn a higher degree. She earned her Bachelor's and then her Master's degree in business, all while working and raising her kids. Her work with GM took her to France, Germany, China, Mexico, Brazil, and around the United States. Working for GM gave her a passion for cars, and she always had something new and different in her garage. Gail found community in choirs, local causes, and sports, wherever she lived. She participated in the General Motors choir and had a great experience in local theater with Sing Out the News. Gail loved watching local basketball and football games, especially if there was a pep band. Her parents put the love of music in her heart by filling the house with Tommy Dorsey and other big band music when she was a kid. No matter the era of music, Gail couldn't help cuttin' a rug when the music started. Gail was a life-long knitter and made it a point to explore all aspects of the craft. She traveled to sheep farms in Australia and New Zealand to meet the farmers she had been buying wool from over the years. Through her knitting guilds, Gail perfected carding, dyeing, spinning, and knitting wool. The friendships made with fellow knitters filled her life after retirement. Zeilinger's Wool Mill in Frankenmuth, MI, was one of Gail's favorite places to spend time. Gail knit hundreds of sweaters and items that she mostly shared with friends and family. No matter where life took Gail, she always returned to live in MI to be near family.
Gail leaves to cherish her memory her son: Clark (Amy) Massey; daughters: Shawn (Roger) Blovet and Jennifer (Jon) Vickers; grandchildren: Keelin, Leif, Max, Frankie, Ava, and Noah; brother: Ted Donovan; nieces: Holly (Chris) Ark, Kyla Donovan.
Gail's obituary was lovingly written by her family.
Let the family know you care by sharing this tribute.