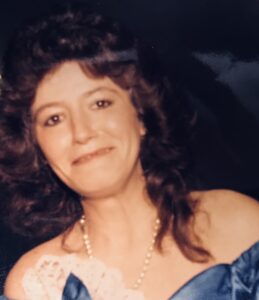 Age 59, of Flint passed away Wednesday, June 12, 2019, at home with her family by her side. A Celebration of life service will be held at the American Legion Hall, 10309 Davison Rd. Davison, MI 48423. on Saturday, June 22, 2019, at 3:00 pm.
She was born in Los Angeles, California, on January 7, 1960, the daughter of Mr. & Mrs. James and Ann (Brown) King. She married the love of her life, Dale April 9, 1988, in Burton. She worked production for Volunteers of America in Burton for four years. In her free time, Flo enjoyed spending time with her family and friends, going to the casino, hunting, fishing, and listening to music. She was known to always lend a helping hand.
Left to cherish her memory are, her husband, Dale Green; daughters: Crystal Mater (Bryan Finks), Tomala Menix, Trayce (Tim) Henry-Green; four grandsons; four granddaughters; three great-grandsons, and one great-granddaughter; siblings: Mary (Rob) Nurmi, Scott (Amy) King, Jeannie Kalanquin, Jackie (Ed) Musselman, Steve (Terese) Wiles, and Carol Kinney; two sisters-in-law: Judy Grose & Tracie King; 22 nephew & nieces, 42 great nephew & nieces, and 3 great-great nephew & nieces.
Flo was preceded in death by her parents Jim and Ann (Brown) King; brothers: Jim King Sr. & John King; brother-in-law, Vern Kalanquin.
Let the family know you care by sharing this tribute.