F. William (Bill) Thewalt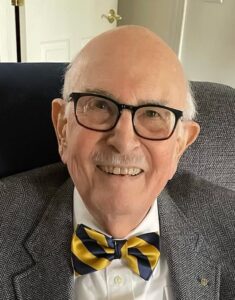 Age 88, died peacefully Monday, August 7, 2023 at his home in Grand Blanc, Michigan. Expressions of sympathy may be shared with the family on Bill's Tribute Wall at detroitcremationsociety.com.
Bill was born April 10, 1935 in Detroit, Michigan to Frank and Ruth Thewalt. He was a big brother to his only sister, Penny (Thewalt) Oberg.
He graduated from the University of Michigan in 1958 with a degree in Business Administration. In his early career he was business partners with his father at Fraher Sausage Co., a wholesale sausage maker, known by the family as the Bologna Foundry.
Because he owned a white dinner jacket, Bill was asked by a fraternity brother to be in his wedding. It was there Bill met Joyce Bogg. In 1968 they were married, and they began their common life in Detroit. In 1970 they moved to Grand Blanc when Bill began his career as a writer for General Motors' Marketing Educational Services division where he primarily developed, wrote and taught training curriculum for the owners and managers of General Motors dealerships.
In Grand Blanc they built a family and became involved in their community's life. Bill was involved in local politics as campaign manager for a candidate for the Grand Blanc Township Board and later was appointed to the Grand Blanc Township Planning Commission. In his retirement years, he became well known for his pointedly worded letters to the editor.
Throughout the whole of his life, Bill served the organizations he belonged to and supported on leadership or strategic committees including St. Christopher's Episcopal Church, the Episcopal Dioceses of Michigan and Eastern Michigan, Flint Area Wine Society, Flint Community Players, and the Flint Retired Men's Fellowship. Many have remarked they will miss Bill's contributions of strategic thinking and his expertly written minutes.
The true joy of Bill's life was his family. Bill and Joyce enjoyed travelling together, tending to the vegetable garden in their backyard, hosting dinner parties, and supporting the careers, hobbies and interests of their two daughters.
Ever the Michigan man, Bill donated his whole body to the University of Michigan medical school for the advancement of knowledge of its students.
He is survived by his wife of 55 years, Joyce Bogg Thewalt, his sister Penny (Tim) Oberg of Larchmont, New York, his daughters Laura and Sondra, both of Houston, Texas, his nieces Juliet and Jessica, nephews Ted and Matt and many great nieces and nephews.
A Celebration of Life service will occur on Saturday, September 16, 2023 at 2:00 pm at St. Christopher's Episcopal Church, G-9020 S. Saginaw Rd, Grand Blanc MI. The attire is Maize and Blue. The family will receive visitors following the service.
Donations may be made in his memory to any of the following:
St. Christopher's Episcopal Church – please specify Restricted – Memorial. Donations received will be placed in the Endowment Fund, Bill was one of the architects of this fund. http://www.stchrisgrandblanc.org/donate-2/ .
Flint Community Players, https://www.flintcommunityplayers.com/support-us .
Bill's obituary was written by his loving family.
Let the family know you care by sharing this tribute.