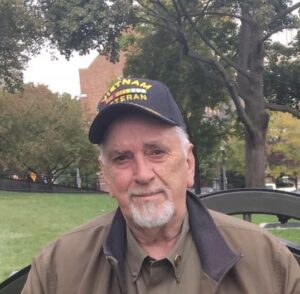 Age 71, passed away at Saginaw Senior Care and Rehabilitation Center, on Tuesday, November 16, 2021. Family and friends are invited to attend a Military Service at 1:30 PM on Friday, November 26, 2021, at Great Lakes National Cemetery, in Holly, Michigan. Those desiring may join us at 1:00 PM, at Detroit Cremation Society, 8253 South Saginaw Street, in Grand Blanc, to then follow in procession to the cemetery.
Edward Arlie "Ed" Salisbury was born on April 1, 1950, in Evart, Michigan. At the tender age of 17, Ed volunteered to serve his country in 1968 and enlisted in the United States Army. He was boots on the ground in Vietnam shortly thereafter. His final day on Vietnam soil was October 22, 1969, when he was critically wounded. Upon his honorable discharge in January of 1970; Ed was awarded the Purple Heart with Oak Leaf Cluster, the National Defense Service Medal, the Vietnam Service Medal, the Combat Infantry Badge, the Vietnam Campaign Medal with 60 Device, 1 Overseas Bar, and Bronze Star for Bravery. Edward recently celebrated his 52nd "Alive Day."
After returning to civilian life, Ed went on to build a full life, living in many places including Marion, Midland and Flint. Working as a contractor and entrepreneur, Ed owned multiple businesses throughout his life, before retiring to Gladwin where he volunteered as the Assistant Director of Veterans Affairs for Gladwin County. Which was an organization he was proud to be a part of. The thing he was most passionate about was his children, grandchildren and great-grandchildren. He bragged about them all the time. Most stories of Ed's were a little bigger than most but that is only because he was so proud of his family.
Edward is survived by his 5 children; Alysha Miller (Jim), Heather SeKrenes (Brian), Joy Salisbury, Heath Salisbury, Travis Salisbury (Danielle), and several grandchildren, and great-grandchildren.
In lieu of flowers and gifts; donations may be considered to the Gladwin County Veterans Memorial Project; midlandfoundation.org/fund/gladwinveteransmemorialfund/.
Friends may share a memory with the family at Great Lakes National Cemetery or online at detroitcremationsociety.com.
Let the family know you care by sharing this tribute.