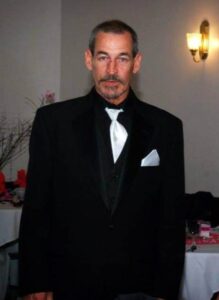 Age 64, of Chesaning, passed away on April 23, 2023, with family at his bedside. In accordance with his wishes, cremation has taken place. Expressions of sympathy may be shared with the family on Duane's Tribute Wall at detroitcremationsociety.com. The family also has a GoFundMe account on Facebook, if anyone would like to donate to help the family with cremation expenses. A Celebration of Life and benefit dinner will be held on Saturday, May 20th, 2023 at 2:00pm, located at Iron Wheels, 498 Garrison Rd., Owosso, Michigan 48867.
Duane Lee Gould was born on July 15, 1958, in Alma, Michigan, the son of Paul Gould and Carol Cramer-Woodbury. Duane had three sisters, Roechele Biehl, husband (Tom Biehl), Kae Handley, Diane Flegel, husband (Randy Flegel). Duane married Shirley Ann Birge-Gould on November 26, 1976. Duane helped his father, Paul on the family farm until the passing of his father, Paul. Duane then worked as a welder for many years until he got ill with a brain disease called Progressive Supranuclear Palsy (PSP). Duane loved to hunt, fish, and play pool, along with many other outdoor activities. He loved his family and always had a joke to tell everyone! He will be missed by many!
Duane is survived by his two daughters; Kristi Gould and Melissa Drake, and his son; Joseph (Kayla) Gould. Duane had 11 grandchildren; Brandon Gould, Hunter Gould, Kailey, (Brandon) Murray, Mckayla, (Breck) Graham, Jacob Sperry, Skylar Wise, Coty Drake, Bradyn Gould, Caleb Drake, Bailey Gould, Crystal Davis. Duane also had eight great-grandchildren, with two more great-grandchildren on the way; Trinity Gould, Colton Sperry, Gunner Johnson, Jax Graham, Zaedyn Gould, Lucas Graham, Grayson Murray, Atlas Sperry.
Duane is preceded in death by his father; Paul Gould, mother; Carol Cramer-Woodbury, wife; Shirley (Cheryl) Birge-Gould, grandparents; Robert & Naomi Cramer, Ozro & Bernice Gould.
Duane's obituary is written by his loving family.
Let the family know you care by sharing this tribute.