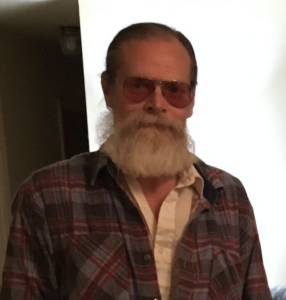 Age 52, of Grand Blanc, passed away unexpectedly on Sunday, September 5, 2021, at home. Family and friends are hosting a celebration of Chris' life Saturday, September 11, 2021, at 3:00 pm located at 1324 Potter Boulevard, Burton, Michigan, 48509. Anyone wishing to contribute to the family for costs associated with his death may contact his sister at karen.smith38340@gmail.com.
Chris was born November 17, 1968, in Jackson, Michigan, the son of Mr. and Mrs. Robert and Ellen (McGuire) Hall. He graduated from Lumen Christi High School in Jackson in 1987 and then attended ITT Tech in Fort Wayne, Indiana until 1989. Chris moved to Grand Blanc in 1990 and started working at Northville Downs as a Video Engineer in 1992 until his death. He also worked at Jackson Harness Raceway and Saginaw Fairgrounds Racetrack and enjoyed working at Southmoore Golf Course until they closed in May of 2019. Chris volunteered and was on the board of directors at the Genesee Free Net and spent some years as a caretaker as well.
In the 2008 movie Semi Pro, Chris made his acting debut as a man sitting on his 1964 Oldsmobile Cutlass Supreme Convertible. Chris was a go to problem solver, he was always ready to step up when friends and family asked. An expert on many different things, Chris shared his knowledge freely and always with humor. The passing was so very unexpected and has devastated his many friends and family, who will miss him. His stubbornness and sense of humor were his trademarks.
Left to cherish his memory are: his mother, Ellen, brother, Patrick, and sister, Karen, nephews: Andrew, Alex, Michael, Oliver and Ezekiel, and a niece, Samantha.
Chris was preceded in death by his father, Robert in 1992.
Let the family know you care by sharing this tribute.