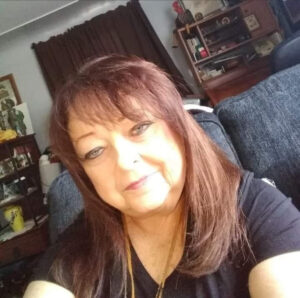 Age 66, of Flint, passed away on October 8, 2023. A Funeral Service will be held at 4:00 pm on Thursday, October 12, 2023, at Detroit Cremation Society, 8253 South Saginaw Street, Grand Blanc, Michigan, with Pastor Kevin Galloway II to officiate. Family will be present to receive friends  from 3:00 pm until 5:00 pm on Wednesday, October 11, 2023, and 3:00 pm until the time of the service at 4:00 pm on Thursday. There will be a dinner held after service at 2408 Nerredia St. Flint, Michigan, 48532. Expressions of sympathy may be shared with the family on Jo's Tribute Wall at detroitcremationsociety.com. In lieu of flowers, memorial donations can be directed to her husband; Avery Poe.
Brenda "Jo" Poe was born October 17, 1956, in Flint, Michigan at St. Joseph Hospital,  the daughter of Williard DeWeese and Judith (Campbell) Pfeifer. Jo was a proud graduate from Baker College with her Associate's Degree in Business, Bachelor's Degree in Business Leadership as well as her Master's Degree in Business Administration.Jo was also in the dissertation stage of getting her Doctoract's Degree in Philosophy from Wayne State University. Jo "Bossy" as we all called her was loved by so many. She was always giving someone life advice and trying to lead everyone she knew in the right direction. She was so smart and had the biggest heart. She loved to sing and cook the best food. She always had to have her nails done and have her makeup on before she could go out anywhere. She loved her family dearly and was a huge family person. She always loved teaching and showing others different ways of learning and new perspectives. She always loved to tell us stories about life and traveling with anyone who would listen.
Jo is survived by her beloved husband; Avery Poe, children; Gregory Poe, Travis(Pamela) Brewer, Steven(MacKenzie) Brewer, her mother; Judith Pfeifer, brothers and sisters Marty(Suzie) and Paul(Angie) DeWeese, her grandchildren; Tyler, John, Sandy, Sebastian(Erica), and Catherine(Isaiah) Poe, Hannah(Jose) Botello, Riggs, Riley, Teagan, Theus and Loki Brewer. Many great grandchildren, nephews and nieces including Rachel Mccomas and so many close dear friends.
Jo was preceded in death by her father Williard DeWeese, grandmother Cinda Campbell, and nephew Mitcheal DeWeese.
Jo's obituary was written by her loving family.
Let the family know you care by sharing this tribute.